Valmet IQ IR Moisture Measurement
The accurate scan averages and high-resolution CD profiles measured by Valmet IQ IR Moisture Measurement provide a solid foundation for Valmet's machine-direction and cross-direction moisture controls.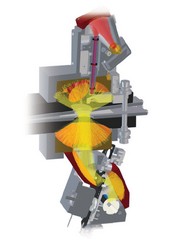 Simultaneous, multi-wavelength signal detection with a superior sample rate, combined with the sensor's high-efficiency single spot optics provides accurate percent moisture readings independent of fillers or carbon black in the sheet, and in most cases, without a need of basis weight measurement.
Features
The infrared (IR) moisture measurement is based on vibrational resonances of water, fiber and other molecules in the paper web, all at their specific wavelengths. In the Valmet IQ IR Moisture, the infrared light is chopped and focused into a high-intensity beam in the source head. As the IR light passes through the sheet, it is preferentially absorbed in certain wave-lengths by water and at other wavelengths by fiber and other sheet components. In the detector head, the light scattered by the web is collected by detection optics and then mixed and detected by a temperature-controlled infrared InGaAs quad-detector – one channel detecting water, one fiber, and two baselines.
Percent moisture can be determined as a pure ratio measurement using the four carefully selected wavelengths with a mod-el-based and filler-independent baseline correction. As a result, the percent moisture determination is not dependent on sheet composition and environmental effects. In this case, there is no need for basis weight measurement in percent moisture determination.
However, the traditional use of beta gauge is also available, and a good option in some cases.
Benefits
True percent moisture profiles at the highest resolution and scanning speed lead to more accurate and stable on-sheet measurements and more precise control of MD and CD properties.
Fast edge to edge measurement provides full sheet moisture profiles for CD controls.
Precise streak measurement with a spot size and profile resolution of less than 5 mm, available after the very first traverse of the web.
Faster on-spec quality and reduced startup waste.
Reduction in rejects due to moisture streaks, roll quality and related issues.
Allows moisture to be increased to save furnish in some grades.
Machine speeds can be increased on drying-limited machines.
Energy consumption can be minimized by precise moisture control.
High-speed data for both percent moisture and cellulose weight enable the diagnosing of wet end and machine condition problems. High-speed outputs are also available for analysis by condition monitoring systems.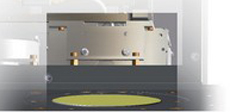 Valmet IQ MW Moisture Measurement provides the moisture content of a web by measuring microwave resonance changes that take place with moisture content changes.
The Valmet IQ Single-Sided IR Moisture (IQ Single-Sided IR Moisture) is a new advanced generation IR backscatter moisture sensor. It is designed to be an independent on-line moisture transmitter with a wide range of applications including conventional scanning applications.