Increase mill production with maximum confidence
Valmet Recovery Liquor Analyzer (Valmet Alkali R)
The Valmet Recovery Liquor Analyzer (Valmet Alkali R) enables you to raise the quality and strength of cooking liquor, react faster to disturbances and improve process throughput.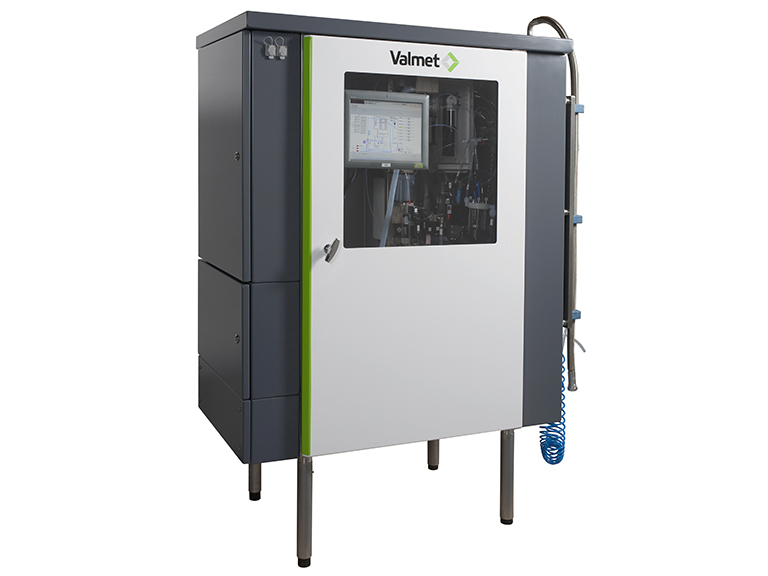 Improve the sustainability of your entire liquor cycle
Critical to liquor cycle sustainability is how well you can recover chemicals and generate energy from black liquor. Using automatic real-time sampling and robust titration methods, the Valmet Alkali R directly measures the key chemical values you need to maximize production.
The Valmet Alkali R measures absolute chemical concentrations and calculates Reduction Degree, Effective Alkali, Active Alkali, Total Titratable Alkali (TTA), Causticizing Degree, and Sulfidity. With this data in hand, you have complete control of recovery efficiency, ensuring high-quality white liquor is delivered to the digester.
In addition to eliminating harmful overliming, your white liquor filters require less cleaning. This results in higher causticizing output, savings in cleaning chemical costs and better lime mud quality leading to higher lime kiln production capacity.
Eliminate bottlenecks for energy efficiency across the mill
Thanks to the precision and reliability of the Valmet Alkali R, you can confidently drive processes at maximum white liquor concentration without risking overliming or scaling of the raw green liquor lines. Remove the typical bottleneck at evaporation and boost recovery boiler with precision control of green and white liquors.
One of the challenges of chemical recovery line has been collecting reliable information that can be analyzed and easily understood. With the Valmet Alkali R, you can safely monitor and control recovery process parameters on a level far exceeding laboratory frequency and precision.
The Valmet Alkali R brings a new opportunity to tighten control over chemical recovery of the recovery boiler, leading to higher reduction degree and green liquor TTA. With an optimized liquor chemistry, you achieve higher steaming rates or liquor throughput in the recovery boiler.
Safe, easy and built to last
Thanks to its straightforward ABC titration method, the Valmet Alkali R is extremely fast to start up and use. Automatic self-diagnostics continuously monitors the condition of the analyzer, as well as maintaining a check on the validity of the measurement results.
Each sample line is automatically flushed clean after sampling to prevent plugging. Routine self-tests cover valve operation, flow rates, level sensors, cleaning sequence efficiency and measurement results. The rugged build of the analyzer ensures high uptime with minimal maintenance. Every Valmet device is supported by our global service network.
A track record you can rely on
The Valmet Alkali R is designed to meet a wide range of needs and process sizes. As many as 16 sampling lines can be installed in one analyzer. Depending on measurement frequency and scope, the analyzer can include two different titrator modules.
The Valmet Alkali R delivers a strong return on investment for every customer. Modern pulp mills see significant annual cost savings from being able to optimize the entire liquor cycle.
Higher chemical recovery, better heating value of black liquor, improved pulp mill throughput, and faster recovery from process upsets are just some of the many ways the Valmet Alkali R helps you run your mill better.
Related optimization solutions