Valmet Dirt Count Analyzer - Valmet DCD
The unique Valmet Dirt Count Analyzer (Valmet DCD) is used for the classification of dirt count and brightness from pulp sheets at the baling line. Valmet DCD is a fast and accurate online analyzer measuring up to 5 minutes a sheet and offering results independently 24/7.
Benefits
The analysis conforms to TAPPI and ISO standards
Operator independent results 24/7
Consistent analysis – The analysis is done always the same way, avoiding human error
Standard brightness measurement
Fast operator response to dirt and brightness trends
Trackable – Dirt can be traced and confirmed by a laboratory method
The measurement results are stored in the databases of the testing station and sent to the mill data net. The database can store results at least a year.
Dirt pictures can be saved for later review
Operation principle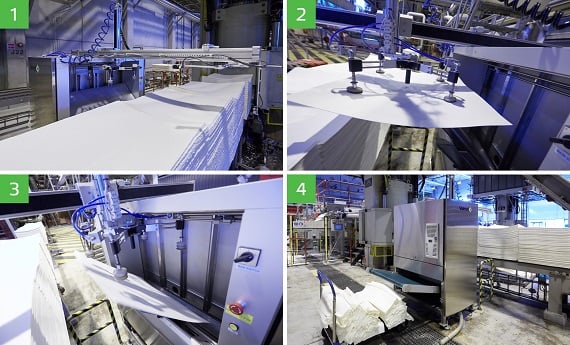 Valmet DCD takes samples continuously or according to an internal timer. When the testing sequence is finished, the sample from the following bale row is taken. A sheet is taken from one bale of the row and moved to the sample tongs. Valmet DCD scans the whole sheet in segment pictures by moving the sample sheet and camera across it. The brightness test is repeated from different points of the sheet and the average value is calculated. The dirt is analyzed from camera images by using image analysis, and the count is classified according to the size and shape. This process is continuous, and after the analysis cycle is complete, Valmet DCD is ready for the next sheet.
Features
Fast and accurate analysis of dirt count and brightness (optional) from pulp sheets
Measures also color (TAPPI standard T 442)
Dry and wet sheet analysis
Size, shape, and contrast of each individual dirt
Classification of dirt into user-selectable classes
Dirt count expressed as mm2/m2, mm2/kg, n/10g, etc
CUSTOMER SUCCESS STORIES
Data helps CMPC Guaíba make decisions
Rio Grande do Sul's largest paper mill, CMPC in Guaíba, has installed Valmet Dirt Count Analyzer (Valmet DCD) to evaluate the dirt content and brightness.

Guaranteed pulp quality with Valmet Dirt Count Analyzer
Metsä Fibre personnel have actively collaborated with Valmet Dirt Count Analyzer (Valmet DCD) design team and the latest result is a third generation device soon to be delivered to Metsä Fibre mills in Joutseno and Rauma.