Valmet Stand-Alone Retention Control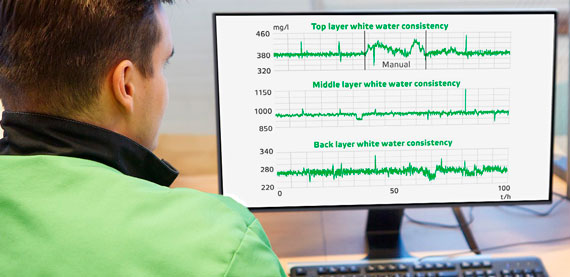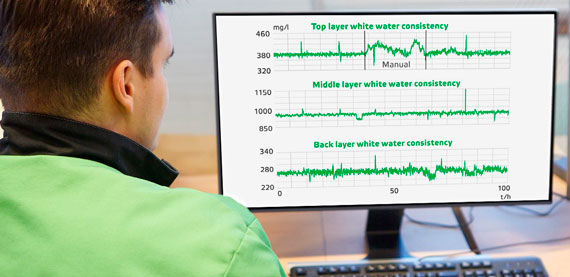 Valmet Stand-Alone Retention Control (Valmet RET) is a stand-alone control package utilizing the Valmet Retention Measurement (Valmet RM3) low consistency measurement and Valmet control hardware with state-of-the-art model predictive control.
Valmet RET is intended for paper, board and tissue machines with third party control systems. It offers many of the benefits previously only available to Valmet DNA process control and Valmet IQ quality control system users. Nowadays these controls should be a standard solution for every wet end.
Retention control utilizes Valmet Retention Measurement (Valmet RM3) white water consistency measurement and controls white water total consistency by adjusting automatically retention aid flow. Valmet Stand-Alone Retention Control utilizes advanced and proven technology, i.e. the same white water and headbox ash consistency control parts as Valmet IQ MD Optimizer.
White water consistency control is a proven and highly efficient way to stabilize wire retention. The benefits of this control include vastly improved runnability, efficiency and product quality.
Retention control
The goal of retention control is to minimize consistency variations within the short circulation and stabilize wet end operation. This improves paper quality in the machine direction by reducing variations in basis weight, paper ash and moisture.
Based on Valmet RM3 white water consistency measurement
Controls retention aid flow to keep white water consistency on target
Benefits
Stabilized wet end operation
Improved machine direction quality
Fewer wet end breaks
Savings in chemicals and drying steam
Better control of grade changes and start-ups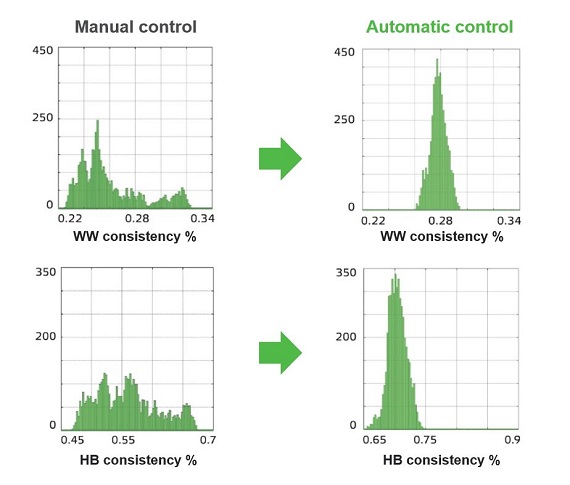 Breaktime headbox ash consistency control
During sheet breaks the paper ash measurement from the dry end is not available and filler flow is fixed to the level before the sheet break. However, process changes during the break, variations in broke flow for instance, often lead to higher ash levels affecting web threading and final quality. This control keeps the headbox ash consistency on the level it was before the sheet break.
Based on Valmet RM3 headbox ash consistency measurement
Controls fresh filler flow during the sheet break plus dry end sensor settling time to keep headbox ash consistency on target
Benefits
Stable ash on paper web during sheet break
Easier web threading → shorter break time
Paper ash on target after sheet break → less off-grade production → less repeat sheet breaks
Less broke → more production
| | |
| --- | --- |
| | Read more in depth about Automatic Retention control from Tappi book: Advances in Papermaking Wet End Chemistry Application Technologies/Tappi Press 2018 (Chapter 7: Control and Optimization of Retention) |
Customer success stories and related articles