Automatic wire retention control
Valmet Stand-Alone Retention Control (Valmet RET)
The Valmet Stand-Alone Retention Control (Valmet RET) is a wet end control solution that utilizes state-of-the-art model predictive controller and Valmet Retention Measurement. The Valmet RET solution includes retention control and breaktime headbox ash consistency control.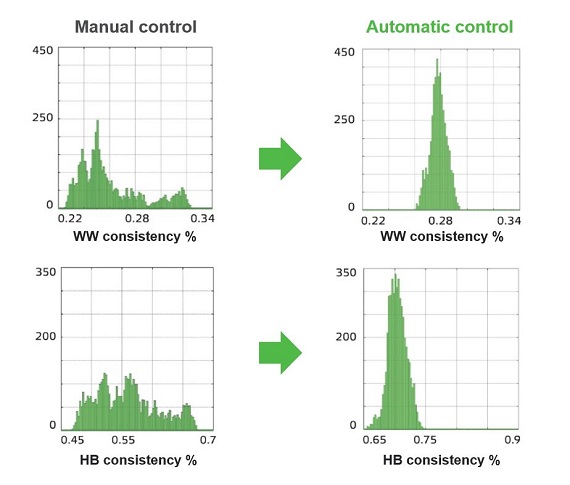 Stabilize white water consistency
In wet end operation, retention control minimizes consistency variations within the short circulation. This improves paper quality in the machine direction by reducing variations in basis weight, paper ash and moisture. When there is less machine direction variation, cross profiles are also better.
Valmet RET stabilizes white water total consistency by automatically adjusting retention aid flow. White water consistency control is a proven and highly efficient way to stabilize wire retention.
The Valmet retention control works for all types of paper, tissue, and board machines.
Gain new benefits through consistent headbox ash
During sheet breaks, the paper ash measurement from the dry end is not available, so typically filler flow is fixed to the level before the sheet break. However, process changes during the break, variations in broke flow for instance, often lead to higher ash levels affecting web threading and final quality.
The Valmet RET manages fresh filler flow during the sheet break and dry end sensor settling time. This keeps the headbox ash consistency on the level it was before the sheet break. Web threading is easier, and paper ash is right on target after the sheet break.
Simple to install and integrate
The full solution fits in a single Valmet hardware unit that can be installed in the cross-connection room. This enables fast delivery and short implementation time at the mill.
You can connect the Valmet RET to your mill system with standard 4-20 mA I/O signals. Secure remote connection to the Valmet RET enables fast responses and remote help from Valmet locations around the world.