Proactive alkali profile management for modern cooking
Valmet Cooking Liquor Analyzer (Valmet Alkali C)
Modern cooking processes are complex and challenging. Maintain precise control of liquors in the digester feed and circulation loops using real-time data from the Valmet Cooking Liquor Analyzer (Valmet Alkali C).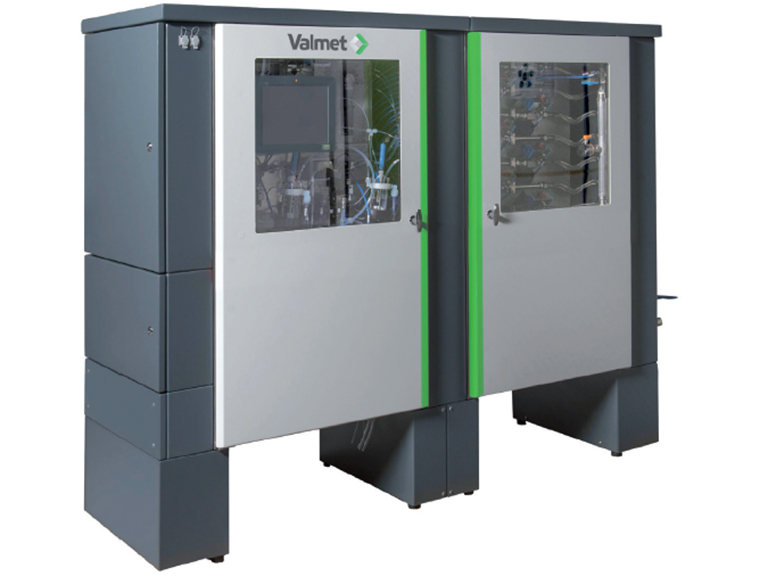 Save through precise alkali profile management
With the measurement and control challenges in and around the digester in modern cooking processes, alkali profile management has become a decisive success factor. The Valmet Alkali C automates liquor chemistry measurements for fast and easy online analysis to ensure you keep your alkali profile on target.
Precisely manage the alkali profile for your continuous or batch digester using reliable, real-time information about the effective alkali (EA) concentration of liquors. The Valmet Alkali C helps you reduce Kappa number variability, use chemicals more efficiently, and improve pulp yield and fiber properties.
Precise alkali sampling for staying on spec
The Valmet Alkali C supports a wide range of concentrations, from white liquor down to zero-residual alkali. The sampling system has a separate conditioning unit and up to 16 automatic samplers.
With precise sampling and online results, you can optimize the alkali profile in cooking and residual alkali in black liquor. Optimized residual alkali in black liquor also minimizes white liquor consumption and help to control correct residual alkali to evaporation plant.
Safe, reliable results with higher frequency and precision
With the Valmet Alkali C, you can safely monitor and control cooking process parameters on a level far exceeding laboratory frequency and precision. The automatic sampling from the Valmet Alkali C provides key laboratory-standard results at the touch of a screen. Personnel remain safe while delivering real-time information so operators can react quickly and effectively manage the alkali profile.
The SCAN-N33:94 method used by the analyzer does not create hazardous fumes or scaling precipitates. The analysis is based upon an inflection point titration that eliminates the effect of any pH electrode drift, achieving a standard deviation better than 0.3 g/L (Na2O). Each sample line is automatically flushed to prevent plugging. There is no sensor cleaning or recalibration required.