Taking intelligent refining to the next level
Valmet Fiber Furnish Control
The Valmet Fiber Furnish Control solution helps you rapidly achieve stable refined pulp quality, leveraging precision data from Valmet Fiber Furnish Analyzer (Valmet MAP Q/MAP) and Valmet Consistency measurements.

Remove the complexity of refining
Successful refining requires measuring and balancing a multitude of variables. Pulp flow, energy consumption, pulp properties, and filling characteristics all influence refining and make the operator's job a difficult one.
The Valmet Fiber Furnish Control effectively eliminates the typical challenges of refining. Automated intelligent control reduces the need for manual intervention and allows operators to focus on other aspects of process control.
Get measurable results fast
Combined with Valmet MAP Q and Valmet Consistency Measurements, the Valmet Fiber Furnish Control delivers significant improvements over the short and long term, both in product quality and energy economy.
Implementing a complete refiner control system has never been easier and with minimized risks. The short, predictable installation and commissioning of the Valmet Fiber Furnish Control mean you can get your refiner control up to full speed fast. As soon as it is turned on, the Valmet Fiber Furnish Control stabilizes refining and allows your facility to run closer to process, equipment, and economic limits.
Reduce variability in drainage and fiber properties
Better production performance with fewer web breaks
Lower energy consumption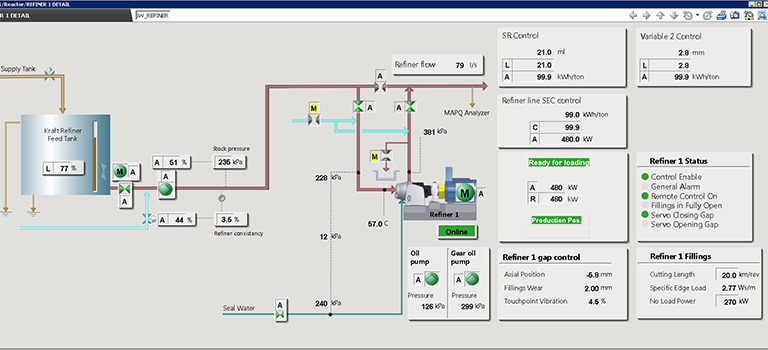 Cost-effective furnish control
A fully integrated application package, the Valmet Fiber Furnish Control includes diagnostics and safety interlocks, as well as commissioning instructions out of the box. Several communication protocols are available in addition to Valmet Industrial Internet.
The Valmet Fiber Furnish Control uses proactive multivariable specifically designed for the refiner process. On the basis of the process models and controlled variable setpoints, the control regulates all manipulated variables simultaneously.
The Valmet Fiber Furnish Control can be added into existing Valmet DNA or QCS systems or installed as a complete standalone solution. An intuitive user interface for operations, process engineering, and maintenance is available to local control rooms. Remote support is available as well.