Valmet Retention Measurement
Valmet Retention Measurement (Valmet RM3)– Total and true ash consistency measurement, ideal for wet end monitoring and control.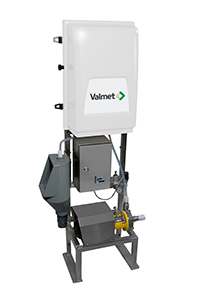 Valmet has been an innovator and pioneer of paper machine wet end measurements and controls. Valmet Retention Measurement (Valmet RM3) and Valmet Wet End Analyzer (Valmet WEM) continue the products development path which was chosen late 1980's, in order to provide totally new measurement alternatives for paper machine wet end process.
The key to high productivity
Features
Valmet RM3 wet end sensor fits the applications where the continuous, single line measurement of total and true ash consistencies is adequate for building the solution for process monitoring and control. It is based on over 30 years of experience in optical consistency measurements and represents the third generation of industry-standard technology. Valmet RM3 is the one and only measurement on the market capable of measuring both total and true ash consistency from a process sample.
Valmet RM3 - the choice for single line retention measurement
Total and true ash consistency measurement
Optical measurement principle
Continuous measurements of one sample line
Real-time monitoring of wet end consistency and retention
Ideal for automatic control applications
Applications
Automatic wet end control solutions
Continuous monitoring of wet end consistency and retention
Upgrade path for Kajaani RM-200 and single line kajaaniRMi.
All paper and board machines
All types and sizes
RCF and DIP applications
Tissue machines
Benefits
Online response to the process changes
Fast recognition of process changes enables fast decision making
Identification and localization of problems in the process
Faster test runs
Faster process optimization
More process information with less laboratory work
Accurate chemical dosages based on process response
Enables automatic controls
customer success stories and related articles