Valmet Pulp Expert
Valmet Pulp Expert is an automatic pulp laboratory analyzer with more than 220 deliveries and with decades of Valmet's experience, knowledge, and close cooperation with customers in the pulp and paper industry.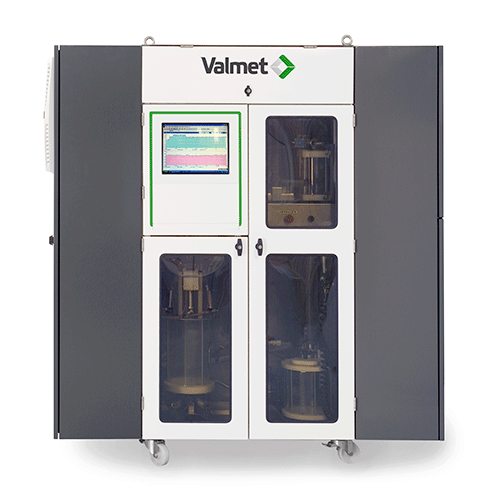 For complete pulp quality specification
Features
Valmet Pulp Expert features a design and technology specially created to meet the ever-increasing market requirements of both measurement precision and low need of maintenance. Its new, high-capacity shive and fiber module and further improved measurement modules fulfill the demanding needs of today's pulp and paper quality management.

Valmet Pulp Expert can test both automatically and manually taken pulp samples. The samples are conditioned and proportioned at the sheet former, where the sheets are made and drainage calculated.

The consistency of the original sample is calculated from the dry sheet. After the optical properties have been measured from the dry sheet, the sheet is transferred either to the dirt count station or to the strength module, where its strength properties are measured. Porosity and pulp measurements are also performed in the strength module.

Several repetitive sheets are made and tested from each sample, using the same procedure. Shive and fiber analysis are simultaneously performed with other measurements.

The sample container is drained empty and then the analyzer is ready for the next sample.

Testing one sample takes about 15 minutes. So at full speed, the analyzer is able to report 5000 individual measurement results per day.
Benefits
When developing the new Valmet Pulp Expert, Valmet focused on improving measurements, user-friendliness, and safety. Another focus was on ensuring the ease of maintenance.
The sample handling and sheet formation have been renewed for a reduced need for maintenance and the improvement of overall operations.
The user-friendly interface includes now a touch screen, which makes working with the analyzer more comfortable. The novelties also include the wireless keyboard and an integrated mouse. The user-interface is supported in several languages and is based on the Windows XP operating system.
The maintenance reduction has been significant and depending on the application, the service interval can be one month.
The analyzer design provides a safe working environment and easy access to the measurement modules. An advanced alarm system is initiated by user-definable database variables and provides important diagnostics of Valmet Pulp Expert's operation.
An insulated computer room provides a secure place for sensitive electronics. The new cooler location ensures a closed-loop cooling system in the computer room.