Valmet Wet End Analyzer
The Valmet Wet End Analyzer (Valmet WEM) is the only available online measurement system that provides tissue, board and papermakers with all the relevant wet end variables for effective wet end management.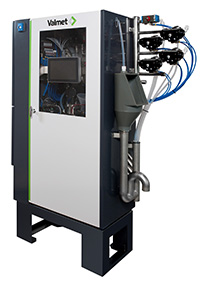 Valmet WEM can be equipped with a combination of up to four optional modules to measure charge, chemistry (pH, temperature, conductivity and redox), total/ash consistency and turbidity. Analyzing up to six separate sample points, each analyzer can be equipped with the measurement modules needed for a specific customer process. For retention control, the retention module can be installed to measure one line continuously which enables real-time measurement and thus automatic closed-loop retention control.
Navigating the complex wet end world
As the number, complexity and interactions of chemicals used in the wet end increases, this modular, multiline analyzer shows the way to achieve optimal papermaking conditions. A stable wet end is essential and by stabilizing consistencies, ash content, charge and chemistry, Valmet WEM users benefit from proven improvements in quality, runnability and overall efficiency.
State of the art technology
Based on extensive field experience and user feedback, continued development of Valmet WEM has resulted in enhanced measurements for superior control, easier implementation to provide immediate process benefits and new technology for high uptime. With four measurement modules in one cabinet, installation is simplified, safety improved and overall cost of ownership reduced. Remote diagnostics through the Secomea secure connection, part of Valmet Industrial Internet solutions, ensure that the extensive expertise of Valmet is never far away.
Measurements
Charge
Chemistry (pH, temperature, conductivity, and redox)
Total and true ash consistency
Total and ash retention
Ash content
Turbidity
Benefits
Fast response to process and grade changes
More process information with less laboratory work
Increased wet end stability
Better runnability and quality
Optimized chemical dosages based on true process response
The first step to automatic control of white water consistency and charge
Complete solutions
Valmet WEM is part of the comprehensive paper quality program from Valmet covering all paper machine measurement and control needs from consistency in stock preparation right up to the reel with complete Valmet IQ quality control systems.
Upgrades available
Valmet takes care of users. As a part of lifecycle management, partial upgrade packages, including for example the redesigned charge module with enhanced materials, dimensions and cleaning systems, are also available for existing users.
Customer Success stories



Automatic control stabilizes retention and charge at Julius Schulte Trebsen
Julius Schulte is a family owned paper producer since 1983, one of the leading German producers of corrugating medium roll paper and specialty papers with a production capacity 200 000 tonnes annually. When they were not able to get sufficient information of the white water consistencies or charge status, they decided to invest in Valmet Wet End Analyzer.