Customer case:
Valmet Wet End Analyzer helps Solenis
As a part of a chemical contract, Solenis monitors the quality and effective use of chemicals at one finepaper machine with an annual production capacity of 320,000 tons in EMEA area.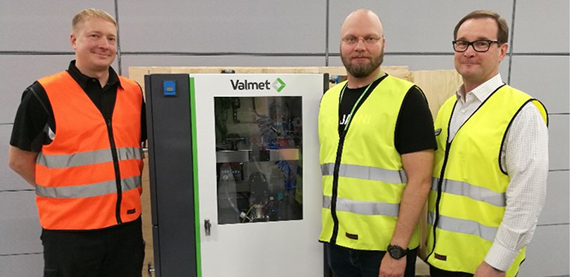 Instead of investing in high manual workload laboratory resources, Solenis prefers online analyzers. Our focus is on real-time information, repeatability, and reliability with good economy. With this solution, we have been able to optimize chemical applications and improve machine efficiency.
Summary
Location
EMEA area
Solution
Valmet Wet End Analyzer (Valmet WEM) with four sample lines, charge, and chemistry modules. The analyzer is measuring process positions from long and short circulations.
Results

Continuous information by active tracking of the process with an online analyzer
Possibility to indicate process dynamics and react on disturbances in real-time
More process information from multiple measurement points
Focus on results' interpretation instead of manual laboratory work
With Solenis' and Valmet's help, the end-customer was able to optimize their process

Keywords
Online wet end analyzer, Paper machine, Automation