Valmet's global training program called Fast Forward brings 40 talented individuals from around the world together for two, week-long sessions of networking and diverse thinking. Project work is a key element of Valmet's global programs as it brings positive energy to all involved, allows the company to cascade strategy in a meaningful way and acts as a springboard for innovative thinking. In 2016, Valmet saw the completion of 163 projects – all of which supported individual development and the achievement of our Must-Wins.
"I joined Valmet eight years ago, first as an engineer then as a supervisor and now as a production manager leading a team in manufacturing. I attended Fast Forward in the spring of 2016, which was a great time for me to attend the program as our unit had recently began producing a new product and had also become the global production unit for another product. With the right project focus, I felt I could immediately apply my learnings and really impact our ways of working and bottom line," says Ben Zhang from Valmet in China.
Guided by Customer excellence
All Fast Forward projects are supported by the program instructors, a mentor and business management. Even before the program begins, participants are activated to identify possible projects together with their manager that support the strategy execution through our Must-Win initiatives and the participants daily deliverables.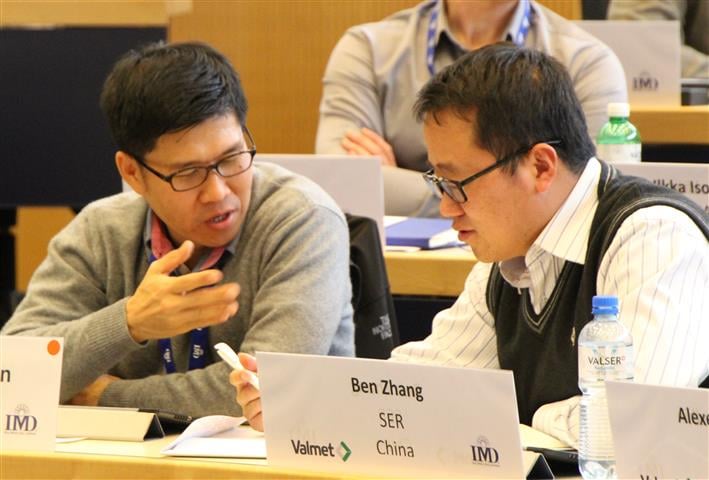 "My project focus was to increase orders for screen baskets and doctor blades, both of which needed a boost for different reasons. Screen baskets had been produced for many years at our facility but were underperforming and doctor blades were a new product for us. The Customer Excellence Must-Win guided the work, focusing on lead times, product improvement without added cost, and customer and sales support. Winning trust, ensuring quality and involving the team was at core of the work," Ben continues.
Quick wins and long term focus
The team producing screen baskets and doctor blades were very much involved in the success of the project. The quick wins were already visible by the end of 2016 with good development in orders received. Impacts were also seen through shorter lead times, material and design upgrades to better meet market needs, improved customer and sales support materials – and even new packaging.
"Not only did the project work accelerate our business but it also increased motivation and pride among the team. The quick wins really helped with this. Even a small thing like unattractive packaging did a lot to improve spirit and pride when it was renewed. The support we got from the technology and sales teams added a lot of value as well. We have ambitious targets through 2020, estimating continued double-digit growth year after year, but we are definitely on the right track," Ben says.
New ideas and inspiration
In 2016, 423 people attended one of the 13 global training programs being run. Individual development remains a high priority for the programs – both in terms of learning but also connecting with colleagues. When accepting nominations for our programs the global talent team works to ensure we have enough diverse thinking in the group. The goal is to get a mix of cultures, backgrounds, genders, experiences, etc into each program group.
"I learned a lot from the program; it was the first time I attended a training outside China. Fast Forward opened my brain, expanded my knowledge and introduced me to new colleagues, cultures, habits, and perspectives. My mentor was very professional. I appreciated his comments and thinking and hope to grow enough to be able to adopt a similar working style someday," Ben concludes.
Connecting with Fast Forward alumni
Valmet is proud of the energy and effort that goes into the Fast Forward projects. We have started reconnecting with Fast Forward alumni to find out how their projects have progressed. To date, 26 out of 122 projects have reached completion with an estimated monetary impact of about 1.9 MEUR. Well done and looking forward to seeing how the rest of the projects progress towards their completion!
Read the next story: The impact of a HighFive