At Valmet we look to develop performance at all levels and in all corners of the organization. The local activities build on the global ones, utilizing local insight to meet identified development needs.
South America launched a leadership development program for its managers at the end of 2014. The program was built around a series of face-to-face modules, each focusing on a different theme. The leadership development program is a good example of how investing in leadership and managerial skill development on the local level has led to increased engagement across the region.
Different teams, different themes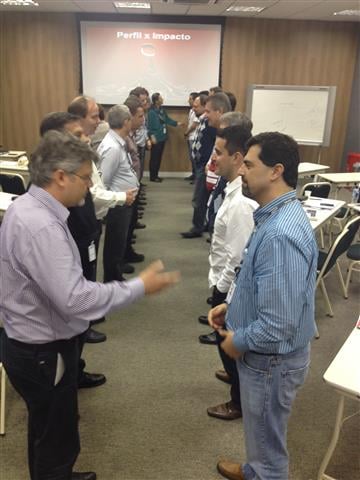 The program focuses on increasing self-awareness, building relationships, setting the pace for development, and handling challenging situations. Building trust is at the core of the program, especially when it comes to creating a safe place for managers to talk openly about experiences and development areas. Time has been built into the program to develop as individuals, as teams and as groups.
When building the program the team carefully considered how to encourage different types of interaction, providing opportunities for existing teams to work together as well as for plenty of networking with managers from different parts of the organization. Engagement has been very high in all sessions.
The program is complemented with an increase in manager communications, including monthly updates from the South American management team, monthly face-to-face manager info sessions, and presentation packs for managers to use with their teams. Communication has been strongly emphasized as a primary tool for increasing engagement and supporting change management.
Measuring success
The results of the OurVoice engagement survey were used to measure the impact of the leadership program. OurVoice 2015 showed an increase in overall engagement of 16 percentage points in South America – the highest increase in the company.
"South American managers communicate far more than before – and it is happening at all levels. I think it is partly due to increased trust which has led to greater transparency, but we've also become more comfortable communicating with our teams and each other. I can see a clear link between the leadership work we've done and the good OurVoice results," emphasizes Leila Figueiredo, the head of HR in South America.
Gather feedback and go forward
In the end of 2015, a group consisting of some of our top talent was brought together to assess the program impact and to help define the next steps. The outcome of the focus group validated the OurVoice result and gave more concrete insight into possible themes for leadership development.
"This year we have focused on managerial skill development that include topics like conflict management, setting SMARTer targets and decision-making. It will build on the global manager development activities we've been rolling out in the past year, like Forward for Managers and ManagerAcademy. Also, we will use assessments for the managers, like 360 and OPQ, in order to give them opportunities to prepare an Individual Development Plan specifics for their own needs. We'll also continue with our communication activities and use them to build engagement further," concludes Leila.