"I thought it was very enjoyable, probably the best sales training course that I've attended across the three companies that I've worked for in sales. It's hard not to disclose just how enjoyable it was to colleagues who are yet to attend, but I won't. You need a better superlative than excellent for some modules…." (Sales Journey training, Vienna, Austria, February 2018)
...is what one of the participants wrote about Sales Journey, a competence development framework for the sales function in support of Shared Journey Forward. It is also the biggest training investment Valmet, or its predecessors, has ever made and is set to reach more than 1,000 Valmet sales professionals in all geographies.
Our work in sales development began in 2016 with "Agility through Sales" focusing on mill team development. It continued with "Leading High-Performing Sales Teams", a tailormade program for 140 sales management representatives that took place during the first half of 2017. As the feedback received from the program was excellent, it was easy to start cascading the program worldwide to Valmet sales professionals.
Sales Journey is set to widen existing skills and learn new competencies to succeed in our demanding market environment. It includes several elements: eLearnings, virtual training and a four- day face-to-face session. North America and China were the first to launch the program at the end of last year, and now all other regions have started, too. Altogether 25 sessions will be organized around the world by mid-2019.
Valmet's sales model, mill team development and ability to sell our full offering to the customers are the main themes for the first two days. The two last days focus on communication and influencing. Facilitators play a key role in the training as all the methods are based on action learning (there aren't too many powerpoints) and everybody has the chance to come out of their comfort zone and learn something new to take home with them.
As of May 2018, over 500 participants have completed the training and the feedback has been very positive.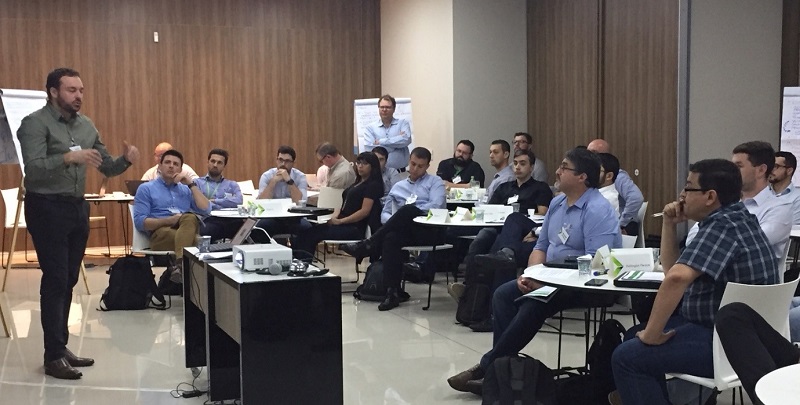 The local impact
The local business landscape differs from country to country and region to region. The real test of the training is how well it can be applied in practice, to ensure we match our unique offering to best meet customer needs. See how the training is already making an impact locally.
"The training does a great job of broadening participant understanding of the different sales efforts, tools and best practices that Valmet uses to serve customers around the world. It takes into account the different markets in which we work and offers flexible strategies for how to apply the content locally. The biggest benefit was being able to learn new things, share ideas and test skills in a safe environment – and also step outside your comfort zone," says Pekka Linnonmaa from Valmet in Finland.
"The training gave me a number of things, a great chance to network across all areas of the company and understand issues from other businesses and countries. It's encouraged me to use new tools and look beyond the traditional Automation offering and bring in other parts of Valmet to address customer issues and it has already given me the first opportunities to serve my customer better. Even if everything from the training was not directly applicable, I was able to adapt what I learned and use it to better address customer needs in the future," says Darren Smith from Valmet in the UK.
"Immediately after the training, from day one, I was able to readapt my approach to customer meetings with a new, more structured agenda of goals/challenge/solution and relevant messages. The communications and influencing module, which pushed me out of my comfort zone in the training, helped deliver my message in a more articulate, convincing and professional manner. Highlights from the training included sharing best practices with colleagues from other departments and discovering new internal tools, like HighFive feedback," explains Giuseppe Tortorici from Valmet in Italy.