Feb 21, 2023
Valmet's social responsibility program supports selected local projects around the world for the wellbeing of society and the environment. In South America, the support is channeled to two organizations, Gerando Falcões in Brazil and Gente de la Calle in Chile, under the theme "Equal opportunities for wellbeing".
In South America, people still have inequal opportunities to education, health and wealth depending on their background. Through our local projects we want to support two good causes, Gerando Falcões in Brazil for organizing sports and games for the disabled, and Gente de la Calle in Chile for bringing help and hope for the homeless.
"We strive to be a responsible corporate citizen and find it very important to act locally and create positive impact in the regions where we operate. To promote "Equal opportunities for wellbeing in South America, our employees voted for the two organizations to be supported – Gerando Falcões in Brazil, and Gente de la Calle in Chile. We at Valmet are very grateful that with our work we can help people in need and improve their lives", says Celso Tacla, Area President, South America.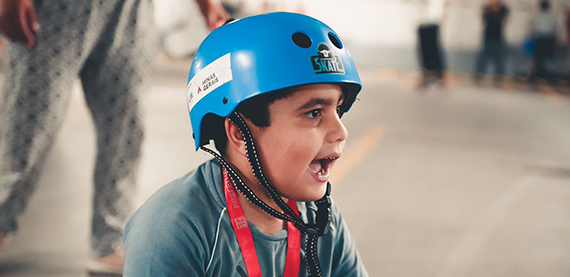 Circuito Inclusão organizes leisure activities to people at all ages.
Leisure activities improve the life quality of the disabled
Gerando Falcões is an ecosystem that delivers education, economic development and citizenship services in the Brazilian favelas, slums, with a mission to dispose poverty. Valmet's donation will be used to support a special program called Circuito Inclusão that organizes leisure and sports for people with disabilities in Brazilian cities.
"Development can be understood as expanding freedom, according to the economist Amartya Sen. This occurs when the barriers of exclusion are overcome in our lives. Ensuring the rights of vulnerable people is the Gerando Falcões network's strategy bringing poverty from the Favela into the Museum", says Andréia Lima Schunemann, manager of Gerando Falcões' Leadership Network.
"Guaranteeing learning, sports, cultural and leisure rights for people with disabilities and their families in contexts of extreme social vulnerability is even rare and extremely relevant to our society. This is the social transformation that Valmet is making possible through supporting Circuito Inclusão: overcoming barriers that limited the development of people with disabilities, this is extraordinary", she continues.
Homeless people get important support through social service fairs
In Chile, Valmet supports Gente de la Calle, a non-profit organization working towards their ultimate goal, social reintegration of the people living in the streets. Gente de la Calle reaches out to the homeless people in the greater Santiago area and in the city of Hualpen through monthly Social Service Fairs. The visitors, in average more than 200 people each time, are provided with advice and first aid related to for example mental and physical health, food and shelter.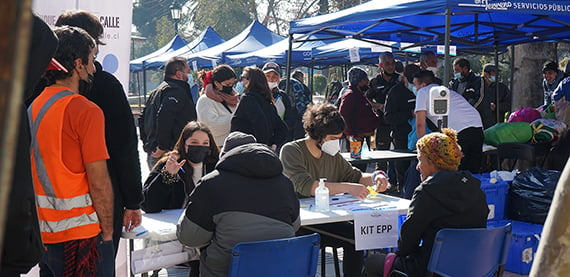 Gente de la Calle reaches out to homeless people at the social service fairs.
Francisco Román, executive director of Gente de la Calle, indicated that Valmet's donation will expand the coverage of benefits and support for people at social risk and in serious homeless situations in the selected communities.
"For us it is very important that private companies get involved in the social objectives of institutions such as ours, so Valmet's monetary donation will enable us to expand our charitable campaigns, which for budgetary reasons are limited to a specific number during the year", he says.