Innovation Pathways, one of Valmet's global training programs, is designed to support Valmet's profitable growth and build an innovation culture. Between now and when the program was launched in 2017, around 180 Valmet experts from across the world have participated in the program. Strong customer involvement as well as from Valmet management teams paves the way to concrete results and new business opportunities.
The program takes participants into the world of innovation. Participants hear stories from local start-ups, learn pitching methods, techniques and tools, and work on actual customer issues. Project work is an important part of the program and project teams are designed to be as diverse as possible to incorporate new perspectives and generate out-of-the-box ideas.
The program has two parts – with action in between. In the first module, project teams create minimum viable products (MVP) which are tested with the customer during the months between the modules. The second module focuses on go-to-market planning, monetization options and building business models. The highlight of the program is the Dragon's Den in which the teams present their innovative solutions to the customer representatives and Valmet Executive team members.

"It has been great to see all the enthusiasm and active participation in innovation pathways program. The program brings together people from different backgrounds and has lot of customer interaction facilitated by external experts. As innovation rarely happens on isolation, this is a great way to discover and innovate. I have been very impressed on the quality of the work and also on the results that we jointly continue to develop together with the customer. I would like to thank our customers, all program participants, top management and different Valmet experts on great contribution to make the program happen," says Janne Pynnönen, VP, R&D at Valmet.
Winning Innovation
Jarmo Mansikkasalo, R&D Manager, attended the 5th session of Innovation Pathways. He and his team of six used the program to come up with a golden ticket, and patent-pending innovation.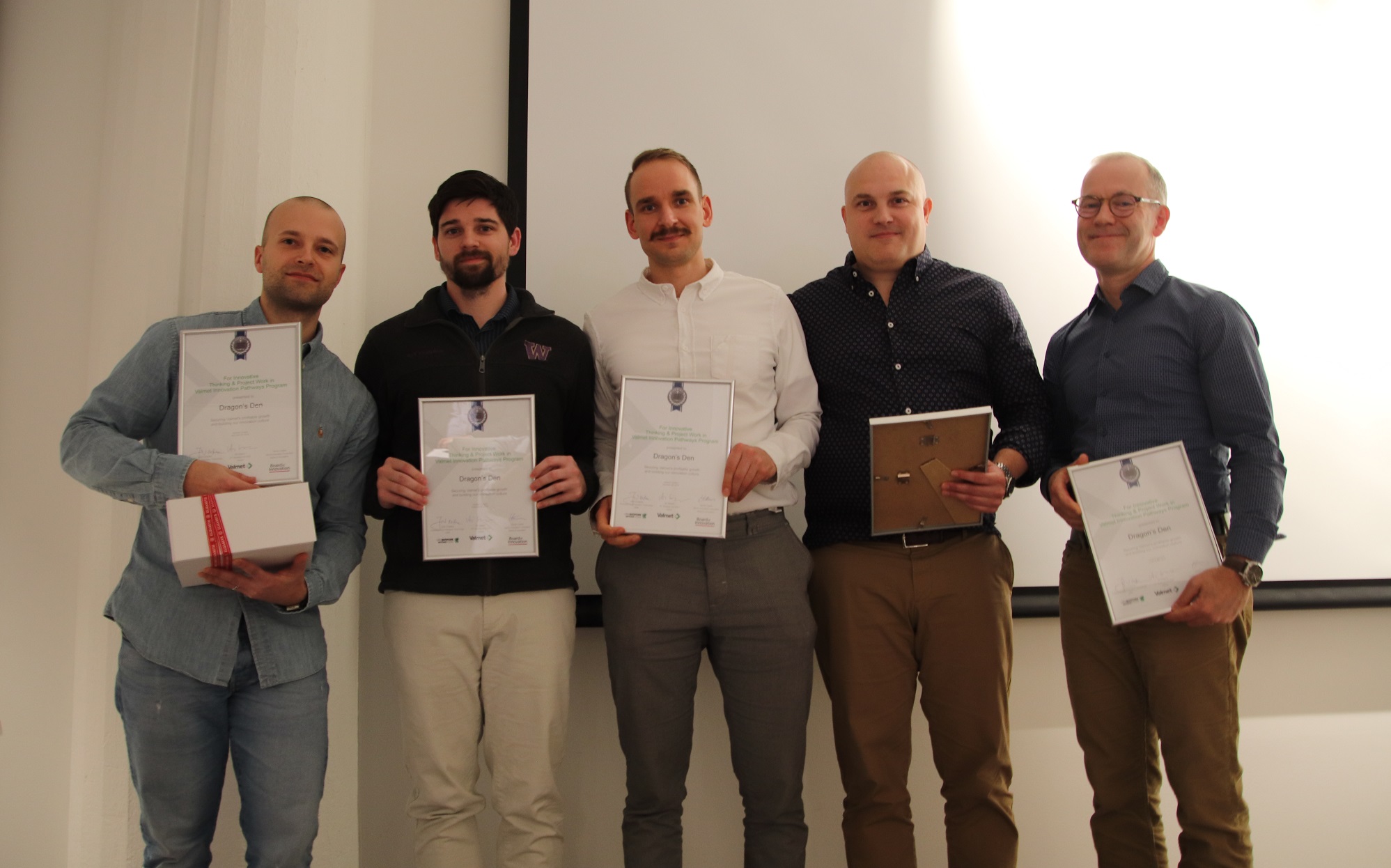 "Our team was tasked with solving a problem related energy efficiency that our customer was struggling with, so we had a pretty wide playing field for the work. Our team had people from Finland, Sweden and US, but more importantly we were all from different parts of the business, which worked to our advantage. You get out-of-the-box ideas quite easily when people are solving projects that are not directly related to their field of expertise. I was familiar with the topic, so it was good to have their feedback because they challenged me and give me a new view on things," Jarmo explains.

The Innovation Pathways program is designed around project work. Teams connect with each other and the customer before, between, and after each of the face-to-face modules. That way, teams can use the face-to-face time for learning and testing the tools and techniques that assess viability, allow you to fail fast, and ultimately, act as springboards for innovation.

"After our team received a golden ticket, our project was presented to the Pulp & Energy leadership team, and was handed over to a Valmet team to develop the concept further with the customer. I am no longer directly involved with the work, but I keep an eye on it out of interest. The program has been an interesting opportunity for me. Not only did I help create a new, now patent-pending solution, but I also learned how to innovate under pressure, which surprised me because normally I'm most innovative when I am relaxed," Jarmo concludes.