Jan 16, 2019
To continue its health and safety improvement, Valmet has renewed the strategic objectives and established the targets for 2025.
As stated in Valmet's Health, Safety and Environment (HSE) Policy, Valmet is committed to protecting the health, safety and environment of its people, customers and communities. To continue the improvement, Valmet has renewed the strategic health and safety objectives and established the targets for 2025.
The new objectives have been set for reduction in contractor injuries, increase in access to health promotion and wellbeing activities, management safety walk rates, ISO 45001 certification coverage as well as elimination of life changing incidents. Valmet also continues with targets to reduce employee injuries and increase safety observations.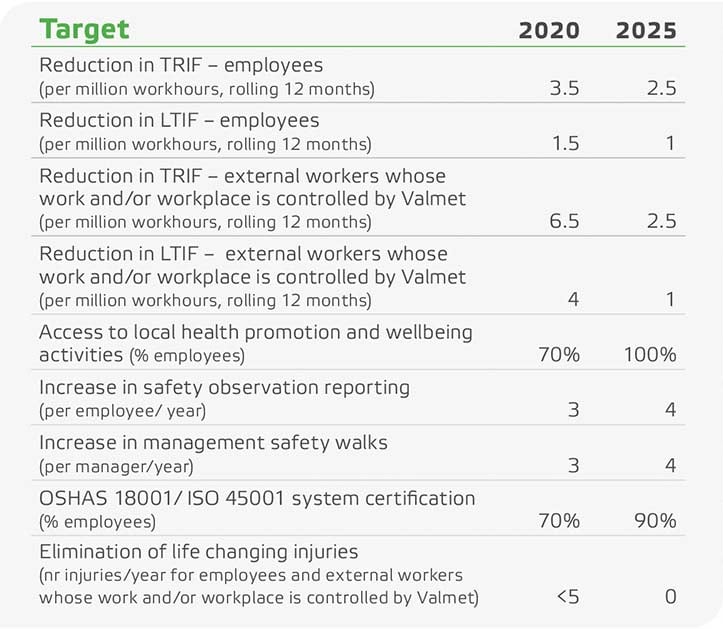 "We believe that all incidents can be prevented, and therefore we pursue the goal of zero harm to people and environment. The health, safety and environment practices are integrated into all aspects of our business and everyone is expected to take responsibility", says Victoria Larsson, Valmet's Director, HSE.
The updated objectives are aligned with the OHSAS 18001 standard requirements for Valmet's certified Global Management System (GMS) covering 71 locations in 20 countries.
"All Valmet organizations follow the global set of objectives and set annual action plans to work towards the targets. The leading key performance indicators (KPI's) that promote safety culture are cascaded down as individual targets to all employees and managers. The new contractor targets are used in supplier selection processes and in supplier engagement programs," Larsson explains.
Steady progress towards the targets
Since 2012, Valmet has followed a health and safety improvement program, which includes targets for reducing incident frequencies as well as increasing near miss and safety observation reporting and HSE training rates.
Valmet has steadily progressed towards its targets and is continuously improving the HSE processes, practices and performance. Since 2012, three quarters of all injuries resulting in more than one day of absence have been eliminated from Valmet's workplaces.
Sustainability is at the core of Valmet's business strategy and operations. Valmet's values, Code of Conduct and related policies as well as selected globally acknowledged initiatives and principles create the foundation for sustainable performance.
Health, safety and environment (HSE) is one of the five focus areas of Valmet's 'Sustainability360º agenda. The agenda takes a comprehensive approach to sustainability at Valmet by focusing on sustainable supply chain, people and performance, sustainable solutions and corporate citizenship.