In 2017 more than 400 summer trainees joined Valmet Finland to work in various functions. This year we wanted to show what our summer trainees do in practice during their summer, so we organized "My summer at Valmet" -competition. The summer trainees could participate by either sending work-related photos or videos for Valmet's social media channels or by blogging about their summer at Valmet. The prize for the competition winners was a chance to explore our functions at Tampere, meet the Executive team members and hear interesting career stories.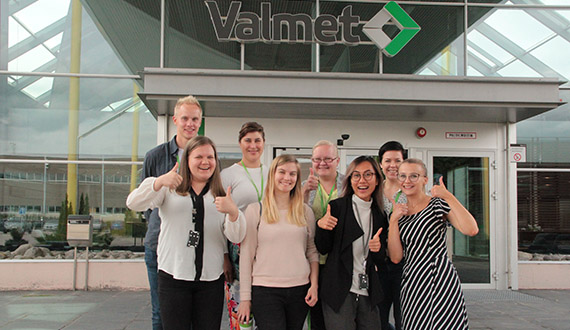 Summer trainees in front of Valmet's office in Lentokentänkatu, Tampere. Back row from left to right: Olli-Pekka Haara, Tuulia Mäkelä, Tanja Myller, Saara Skyttä, and front row from left to right: Laura Parkkinen, Laura Koskinen, Tram Nguyen, Daria Sinkkonen.
Fun and games in Valmet Race
On Wednesday August 9, 2017, eight summer trainees gathered together at our office in Lentokentänkatu, Tampere. The summer trainees started the day with a fun quiz about Valmet and the city of Tampere, and continued by exploring the office while completing various tasks in the Valmet Race.
The Valmet Race consisted of five Valmet-related challenges that the summer trainees competed in groups. The summer trainees completed various games, quizzes and tasks about positive environmental impacts, social media, new technologies, our values and R&D work in energy technology. Most summer trainees liked especially the new technology and R&D challenges.
"Especially the Virtual Reality and HoloLens -experience was memorable, because that showed that Valmet invests in modern technology and at the same time it was nice to see a "boiler" inside, where we wouldn't have necessarily ever had the chance to visit. I also liked the R&D challenge, where we could see in what direction Valmet wants to develop," Daria Sinkkonen from Finance department commented.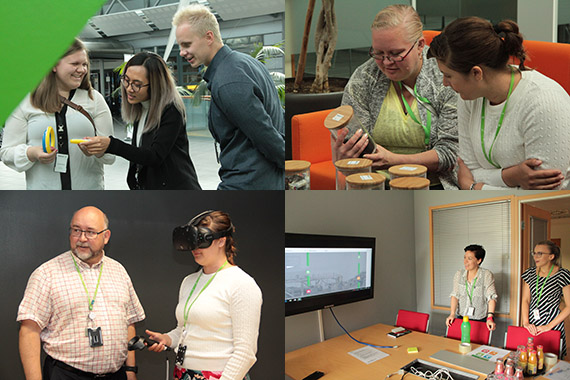 Grasp the opportunities and trust yourself - Insights from career stories
After learning about Valmet, the summer trainees met Bertel Karlstedt, Pulp and Energy's Business Line President, who talked about the importance of balancing between the needs of yourself, your family and work during your career. Sakari Ruotsalainen, Automation's Business Line President, advised the summer trainees to find and grasp different opportunities, and not only do what you're told to do, but also to think by yourself.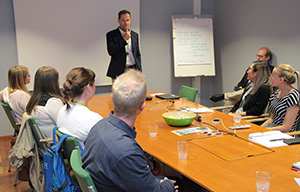 "I really feel the most memorable moment was when Bertel and Sakari shared their career stories and insights about career development, attitude and opportunities," Saara Skyttä from Pulp and Energy's Recovery Finance team described.
Before heading home, the summer trainees also heard three career stories. Matti Seppänen, Resourcing & Development Manager in HR, told that one of his crucial steps was a summer job in a recruitment agency, which got him interested in recruitment and HR. Teemu Tuominiemi, Design Engineer in Automation's R&D team, spent one summer in a pulp factory, which helped him when he later applied to Valmet to a position that matched his studies. Sujatha M., Lead Engineer in Pulp and Energy's Energy team, discussed how she has always wanted to embrace new opportunities, which is why she moved from India to Finland as a part of one-year job rotation program.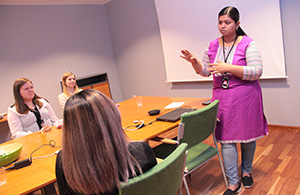 "The day at Tampere exceeded my expectations. The conversations and career stories with Valmet's professionals were very interesting and thought-provoking. As an almost finished Master of Science (Technology), these stories portrayed a picture of very versatile job opportunities at Valmet, and encouraged to believe in your own instincts as Bertel and Sakari also mentioned," Tuulia Mäkelä from Paper business line commented.
The summer of learning and great colleagues
The summer at Valmet has been interesting and filled with learning for the summer trainees. We asked the summer trainees to describe briefly what was best about this summer and what they have learned while working with us. Below are some of their answers:
"The best things about this summer were that I had a chance to work with interesting technical topics and be a part of a great working group! I learned to use English as a working language and saw what it's like to work in a large global company." - Olli-Pekka Haara
"The best thing about this summer at Valmet was the fact I could really apply the things I've been studying at the university. It was a very nice feeling when I realised I've been studying not only subjects that interest me but that they're also essential for the kind of work I'm doing. One of the most important lessons learned was that I was given a chance to take more responsibility and to really dive into what this kind of work could be like. Now I have more experience and knowledge to steer my career towards my goals." - Saara Skyttä
"I'm working on my Master's thesis at Valmet, which has been a very rewarding experience. The numerous test drives that I have been planning and executing myself have been the best about this spring and summer. It's exciting to be part of creating something new, make mistakes and learn something new about them constantly. This spring and summer have been all about learning new things every day! The most important issue I've learned is that it pays off to be open and courageously contact new people. This way I've been able to join different projects and familiarize myself more widely to Valmet's functions." - Tuulia Mäkelä
"This summer has given me plenty of experience, which helps me in my future work life. I also met many great and successful people, who I've enjoyed working with. I learned to embrace opportunities and to trust my own skills. Valmet has offered me a lot of challenges, but there has always been people helping and advising, when I've asked for help." - Daria Sinkkonen