As the Pulp and Paper industry progresses, the demand for mills to produce higher quality products as well as production capacity increase. Mills are often struggling to find new operating parameters to meet this demand efficiently. One bottleneck is often the wet end of the paper machine.
A Valmet webinar on Wednesday, December 1st, 2021, presented by Valmet wet end experts Guy Bedard and Mark Landry, covers the principles of dewatering and formation on a paper machine forming section. They also take a closer look at the various components that dress a forming table in order to better understand the principles behind forming table arrangement and operation.
Click HERE to register for this webinar.
In this webinar, you will learn more about:
Drainage principles
Physics behind forming tables
Modern forming section technology
Below is an excerpt of what is covered in this webinar...
Forming table activity
The activity of the stock on the forming table is affected by many factors, including:
foil angle
foil width
vacuum
wire tension
machine speed
jet to wire speed ratio
headbox consistency
Activity may be defined in terms of intensity and scale. The intensity, as shown in the graphic, is the height of the activity peaks.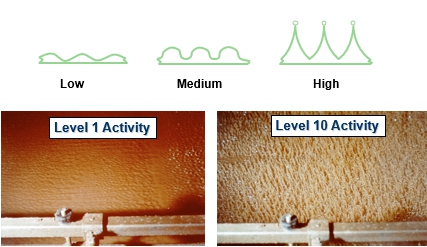 In an attempt to quantify intensity, a 0 to 10 rating system was developed by Schmid. Within this system, a 0 would indicate the presence of no stock activity or a glassy sheet. At the other extreme, a 10 would signify droplet separation or stock jump.
In the presence of no stock activity there is very little or no hydraulic shear present within the slurry and flocculation can occur. On the other extreme, stock jump suggests an over-agitated condition which can be detrimental to fines and filler retention. This is a genuine concern on highly filled and/or alkaline grades.
For more information on forming section operation and enhancements, watch the webinar and contact your Valmet representative.