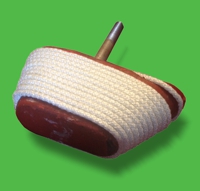 The spout deck on a recovery boiler is considered the most dangerous area for operators and one of the leading causes of recordable injuries. As such, all operators know that having to plug a single spout for any reason can be a dangerous and time-consuming process. Proper precautions and safety methods are necessary to ensure the safety of operators attempting to plug the spout, as well as preventing harmful materials from dropping into the dissolving tank and affecting overall operations.

To improve safety in performing this operation, Valmet has recently developed a refractory plug that is custom shaped for the Valmet insertable smelt spout. This new product is designed to provide a quick and reliable option for operators to intentionally terminate smelt flow to a smelt spout.
A webinar hosted by TAPPI and presented by Valmet recovery boiler area experts addressed several issues regarding dissolving tank safety. Valmet's new reusable spout plug was discussed in that webinar.
Often, welding gloves, jackets or other fire retardant material is rammed into a spout opening to plug it. While this material is available on short notice, there are serious drawbacks. It is difficult to stop flow. The operator is in harm's way while plugging the spout. And the makeshift plug can break loose if/when the material deteriorates. This is not a good way to ensure security.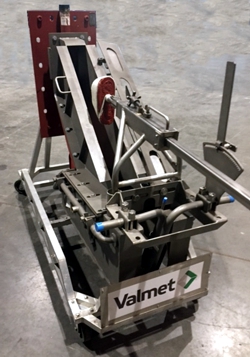 Valmet's refractory spout plug is a secure means of preventing smelt flow in a spout. This permits maintenance on the shatter jets or hood showers. It also increases smelt flow to other spouts during extended low load operation. The handle mechanism locks the plug into the micro-hood system to prevent leaks or failure. The tapered profile allows removal after service is completed. Valmet is also designing the plug to be used as a restrictor plug to provide some control over smelt flow during heavy runoffs.
For more information on improving recovery boiler with a custom spout plug, contact your Valmet representative.