Years ago, selecting a roll cover was made easy by the choices that existed – rubber or rubber.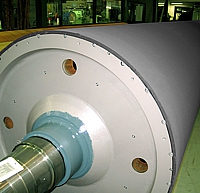 Today, roll cover decisions are much more complex. Modern paper machines run at high speeds, higher nip loads and higher sheet temperatures. The papermaking process also involves a larger variety of chemicals that can attack roll covers.
As a result, the industry has developed new roll cover materials to meet these challenges. Today, papermakers can select from a variety of roll cover types that include:
Rubber (standard duty, chemical resistant or advanced polymer)
Polyurethane
Composite
Ceramic
Sprayed metal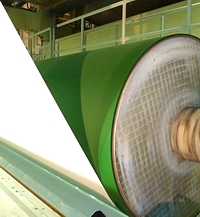 However, with these advances in technology, the stakes for selecting the proper roll cover have risen. A new roll cover for a high-speed machine may cost $50,000 to more than $100,000. In fact, a polyurethane cover can cost twice as much as a rubber cover, while a ceramic cover can exceed them all – but for good reasons. Polyurethane and ceramic covers can provide significantly greater running time between grinds, and are typically more chemically resistant. Given the complex environment surrounding the selection of these sophisticated large capital items, mills face increased pressure to make all the right decisions in order to maximize their roll cover investment.
Five questions to answer
Making the most out of your roll cover dollars begins with a five step selection process, in the areas of application, mechanical, nip analysis, alignment and regrinding.
1) Application: What type of application is it?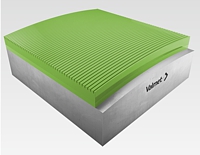 Examine each application because no two are exactly alike. Review previous operating records, including run times, to determine what is successful and what is not.
Note special operating conditions, such as high sheet temperature or steam boxes. What are the roll loading and operating speeds? Are there any chemical concerns? What is the pH in which the roll runs?
2) Mechanical: What does the roll history reveal?
Roll histories offer insight into the past, but more importantly, the future of a roll's performance. A thorough roll history will include information detailing maintenance, breakdowns and failures. For example, are roll changes made on scheduled intervals or are they due to mechanical failures?
3) Nip analysis: Is there an active nip monitoring program?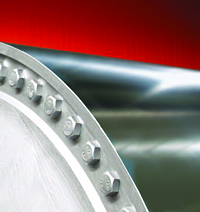 Has the performance of nipped rolls been monitored with nip impressions? Are rolls changed out in pairs? It is a good practice to take nip impressions on all newly installed nipped rolls. This is one of the best methods available to determine the crown/pli relationhip of the press.
4) Alignment: Is the paper machine routinely aligned?
Misalignment can cause premature cover wear and roll cover failure. A program that includes routine checks and alignment is recommended.
5) Regrinding: Is the roll ground on a scheduled basis?
P&J and outcrown reading should be taken on rolls removed from the machine and from new, freshly ground roll covers. Comparing past and present P&J readings may indicate the presence of a chemical attack, whereas out-crown measurements may reveal uneven wear and chemical attack.
Don't gamble while making a roll cover decision. Following this five-step selection process provides the necessary information for making a sound roll cover decision. Also, including an OEM specialist in the decision-making process assures that each roll is suited specifically for the mill's needs.
Roll cover functionality
The functions of roll covers are to carry, drive and lead the paper web and fabrics, protect roll shells from corrosion, improve and optimize water removal and runnability, improve roll release and cleanliness, and enable film transfer and paper finishing. In addition, roll covers must be replaceable in the case of failure, wear or aging.
Lead rolls
Lead roll covers have a relatively long lifetime today, being highly resistant against wear, moisture and chemicals. In addition, they can be customized for controlled friction, release, self cleaning and doctoring properties, according to the application. The cover's adhesion to the shell must be excellent, so as to protect the shell against corrosion.
Suction rolls
Resistance against heat, moisture and wear, and good dynamic properties, are the basic requirements for suction roll covers. Suction press roll covers must withstand high linear loads, temperatures and speeds, and the bonding layer must be reliable in all operating conditions.
Grooved and blind-drilled press rolls
Grooved press roll covers need good resistance against temperature, chemicals and wear, and must generate negligible heat in high speed/load applications. Grooved covers are typically applied to deflection-compensated rolls. The operating temperature of the cover is dictated by the roll cooling efficiency, together with the process environment and nip dynamics.
Center press rolls, top press rolls
There are many requirements for press roll covers that are in direct contact with the paper. The cover must facilitate easy sheet release (giving a low and stable draw) and easy tail threading, have a low tendency for deposit collecting (stable surface properties) and no fiber picking. It must ensure a good doctoring result, minimize blade and cover wear, and be resistant against chemical and mechanical loads. It must be repairable and, of course, competitive in price.
Drying cylinders
Dryer section roll covers help to keep rolls and cylinders clean and protect surfaces from wear and corrosion in hot and humid environments. Choosing the right roll cover ensures good dryer runnability and allows savings in dryer fabric usage and doctoring. Especially in the case of dryer cylinders, non-stick surface features combined with good doctorability provide uniquely desirable features for cylinders, allowing users to enjoy clean surfaces and problem-free operation. Cylinder coatings can be manufactured during shutdowns inside paper machines. Thermal spraying is used for drying/cooling cylinder applications requiring excellent corrosion and wear resistance.
Surface sizing and coating
The main requirements of roll covers used in surface sizing, pigmenting and film transfer coating are mechanical wear resistance, elasticity and chemical resistance. Coating color is normally applied at relatively high temperatures, and the size press can have high overall temperatures due to its location between the pre- and after-drying sections. The applicator roll may have only limited internal cooling, which accelerates the aging of the covers. Abrasives in the paper and coating color wear and scratch the cover in the nip and under the blade or rod applicator. Paper wads in the nip and under the applicator units tend to burn the cover during uncontrolled web breaks. Chemicals in the coating color may attack the cover, and cleaning agents can increase the chemical load. The size press is a challenging environment for the cover material.
The main criteria ranking the roll covers used for size presses are the regrinding interval and the film quality, which has a direct effect on moisture and coatweight profiles. The roll cover must be uniformly hard to gain good film quality in the blade, grooved or smooth rod application.
Calender roll covers
The calendering process has a considerable effect on paper quality. The high loads and temperatures in the short nips improve the surface properties of the paper, but can easily destroy bulk and other properties.
Chilled cast iron rolls have been used in machine, soft and multinip calenders in heated thermo roll positions. But their wear resistance has become a limiting factor, especially in on-line calenders, leading to too short regrinding intervals.
Choosing the best roll cover
Roll cover selection and optimizing roll performance no longer have to be the sole responsibility of the mill. OEM roll repair specialists are a viable resource to aid mills in reaching these specific objectives. Consulting OEM roll specialists such as Valmet roll experts ensures the wisest roll selection and optimization because we understand each roll's strengths and limits, and can provide complete "in mill" technical support.
Valmet roll service centers have roll covering capabilities, along with roll maintenance and other expert services. The one-stop service provided by the service centers ensures long and reliable roll operation and optimized service intervals.
For more information on maximizing your roll cover investments, contact your Valmet representative.