OptiCalender Soft - soft calendering for all needs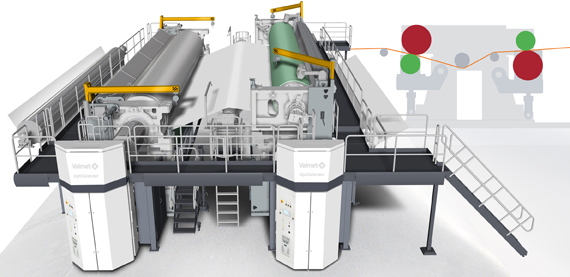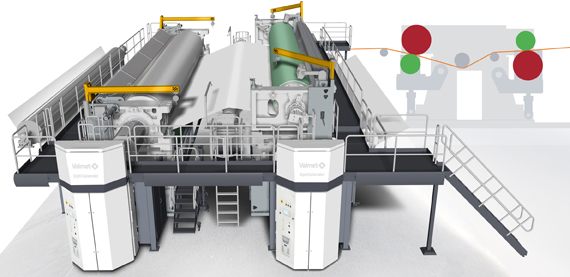 High end-product quality
Valmet's soft nip calenders are well suited for final calendering of different types of board, newsprint, and fine papers. Another area of application is pre-calendering of coated paper and board. OptiCalender Soft calender can be applied to both new lines and rebuilds, all levels of the required accuracy of profile control without width or speed limitation. The streamlined design of OptiCalender Soft contributes to trouble-free soft calendering. Valmet's well-proven soft nip calendering technology is a result of experience from almost 200 references delivered.

The users of OptiCalender Soft get a number of benefits:
Provides high end product quality
Is easy maintenance
Gives reliable operation
Is a safe investment

High end product quality
OptiCalender Soft offers reliable soft calendering for the widest range of applications. Depending on the required profiling accuracy and heat levels, proper rolls and heating systems are selected in close cooperation with the customer. There are no speed or width limitations making OptiCalender the technology of choice also for the highest capacity lines. Fast and accurate CD profiling ensures that target paper quality is met, even in the most demanding applications. Ease of operation and maintenance linked with excellent paper or board quality and a long list of well-running references have made OptiCalender Soft the industry favorite.
Easy maintenance
Planned and instructed maintenance actions: Circuit drawings, assembly bill of materials and service intervals are part of OptiCalender Soft deliveries. Easy access is essential when maintaining the calender. The roll changes are fast and easy. Optional machine diagnostics give a big advantage in monitoring the calender condition.
Reliable operation
High performance tail threading is a key element for high productivity of the paper or board machine. It is essential for a fast recovery in web break. With an optional break recovery package, adaptive software recovers all the process parameters prior to the break instantly, thus removes potential profile problems.
Understanding the fundamentals behind functional spreading of paper web is demanding and requires a long experience.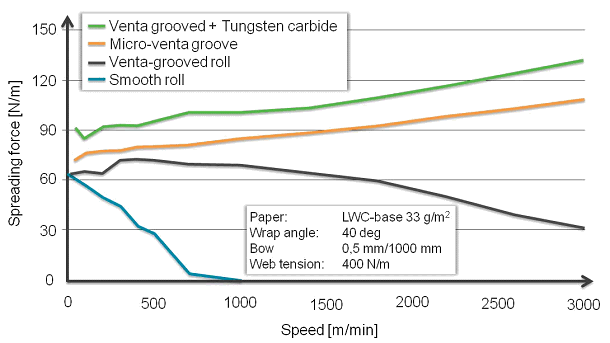 User-friendly automation provides real time info about the machine status. All information - including history - is easy to find. Functions are visualized symbols, whenever possible - No codes in error messages. User-friendly automation helps users recognize, diagnose, and recover from errors.
Soft roll cover damage prevention focuses on preventing thermal and mechanical overloading. Web break monitoring, quick nip opening, roll edge cooling, open nip web threading and even nip closing and loading are just a few examples of the means to protect soft covers.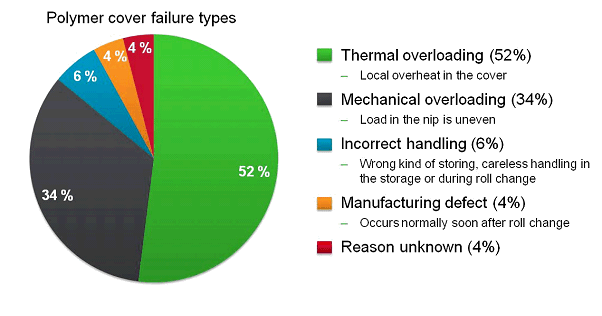 The calender design ensures safe usage. High quality and durable components ensure e.g. that spare parts are available also in the future and the roll covers are of top quality. Thermo roll dimensioning according to FKM norms, i.e. thermo rolls dimensioned to withstand the process parameters.
Safe investment
When investing on a calender, it is impossible to know if the investment is suitable for the future markets after e.g. 5 years. Upgradeability of OptiCalender Soft eases the decision making. Fast and easy installation and start-up ensure saleable paper or board soon after start-up. Additionally, the trouble free calender is easy to operate. Local support will help the customer maintain the calender, e.g. with roll grinding.
We invite you to carry out your calendering trials at Paper Technology Center. All calendering technologies can be tried out with your own paper or board.
Former soft nip calenders OptiSoft, ValSoft and OptiSoft Slim Line have been included in the OptiCalender family as OptiCalender Soft.