OptiCalender Multinip calendering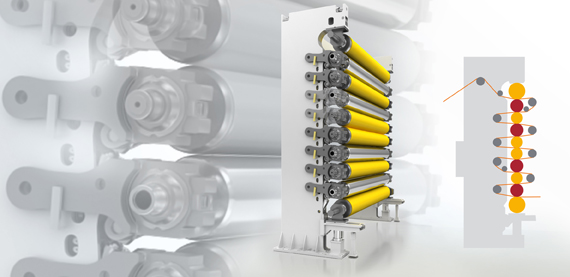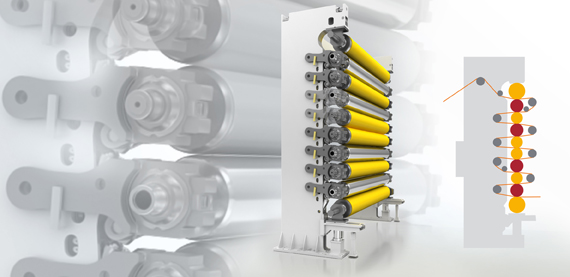 Valmet's multinip calender is used both in off-line and on-line applications. The OptiCalender Multinip loading principle makes it possible to load all nips with the same linear load, resulting in efficient plasticization of paper in the very first nips. Profiling performance is affected by the number of control zones on deflection compensated bottom and top rolls.
Profitable and safe investment - also in the future
High end-product quality
Reliable operation and high efficiency
Easy operation and safe maintenance
Profitable and safe investment
The multinip calendering technology represents the spearhead calendering technology for the paper industry. This claim is backed by over 50 references sold. Valmet's innovative OptiCalender Multinip with two stacks enables calendering of top quality printing papers even at very high speeds. Together, OptiCalender Multinip and OptiCalender Multinip with two stacks are Valmet's unrivaled multinip calendering solutions meeting the needs of all paper grades.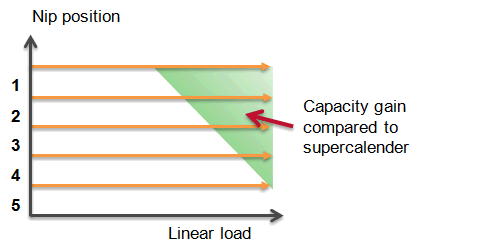 High end-product quality
Wide range of process parameters gives more flexibility to produce different grades. The aimed quality level will be reached by combining the effect of temperature and linear load. It is possible to design the calender so that there is a space reservation to add rolls in the future. A partial nip mode is also a possibility.
Even profiles and desired surface quality can be reached with OptiCalender Multinip's accurate loading and even surface temperatures of thermo roll and stable temperature control of heating system. Also intermediate roll levers and profiling with deflection compensated rolls drives to high product quality.
Understanding the fundamentals behind functional spreading of paper web is demanding and requires a long experience.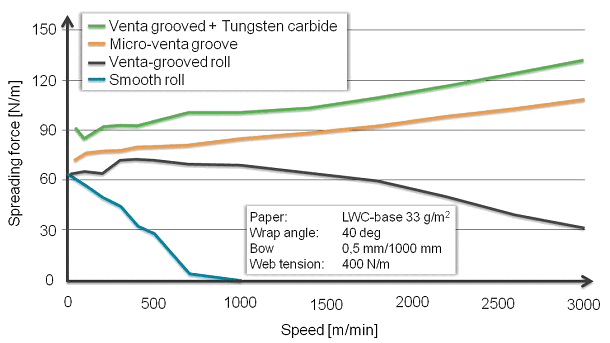 Reliable operation and high efficiency
High time-efficiency is a combination of many factors. High quality and durable components ensure e.g. that spare parts are available also in the future and the roll covers are of top quality. Thermo roll dimensioning according to FKM norms, i.e. thermo rolls dimensioned to withstand the process parameters. Comprehensive monitoring of calender systems and equipment minimizes unplanned shut-downs.
High performance tail threading is a key element for high productivity of the paper machine. Valmet has a large numbers of on-line multinip calender tail threading in both Valmet's own and competitors calenders. Tail threading performance is developed continuously by running trials in tail threading pilot machine.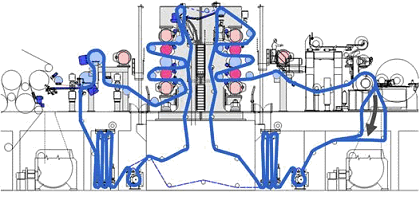 In off-line calender efficient splicing is a must. Both unwind and wind-up splicing sequences are automatic.
Easy operation and safe maintenance
The multinip calenders are easy to access for maintenance. User-friendly automation provides real time info about the machine status. All information - including history – is easy to find. Functions are visualized symbols, whenever possible - No codes in error messages. User-friendly automation helps users recognize, diagnose, and recover from errors.
Planned and instructed maintenance actions
Designed for safe operation
Profitable and safe investment
Strong reference base tells its powerful story. Wide operating window and upgrade readiness are functions that make OptiCalender Multinip profitable also in the future. Process and equipment support is available to further improve your calendering process.
OptiCalender Multinip with two stacks calender was developed to meet the demands of high-speed calendering on top quality printing papers.
We invite you to carry out your calendering trials at Paper Technology Center. All calendering technologies can be tried out with your own paper or board.
Former one-stack multinip calender OptiLoad and two-stack OptiLoad Twinline have been unified in the OptiCalender family as OptiCalender Multinip.