Paper machine rolls require a wide variety of maintenance and repairs throughout their running lives. From installation to re-covering, the precautions and maintenance procedures that mills should follow vary. The most effective method for preventing and alleviating problems is to continuously monitor roll performance and conditions.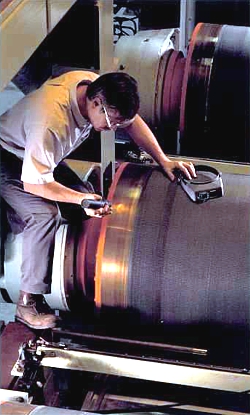 Although the majority of a roll's life should be spent on the machine, there are two occasions when rolls are removed - 1) for scheduled, routine maintenance, and 2) when unpredictable problems and failures occur. To minimize the potential of the latter occurring, mills can take several preventive measures while the rolls are on the machine.
During scheduled and non-scheduled downtimes, mills should inspect all machine rolls. The OEM roll specialist can provide mills with specific steps for maintenance of various roll types. And while different rolls have unique maintenance needs, there are certain common elements that mills should investigate on all rolls.
When the machine is down, mills should check paper machine rolls for the following:
Unusual wear or damage to the cover - Defects may include wash-outs, areas of wear characterized by roughness, cupping around the holes on suction press rolls, etc.
Fatigue-type cracking of the rubber - These cracks are straight, parallel to the roll axis, and seldom seen across the entire roll face. This type of cracking occurs most often near the ends of the roll and is an indication of undercrowning.
Impact-types of cracks - These are irregular and not parallel to the axis. They are most frequently caused by excessive wads running through the nip.
If mills or service operators discover any of these conditions, personnel should remove the roll from the machine for further inspection by a roll specialist so that corrective measures can be determined.
The specialist will check the condition and alignment of rolls to alleviate the potential of premature wear and roll bouncing. If roll bouncing is a problem, the roll may be the victim rather than the source of the vibration. Bouncing may be caused by out-of-balance felts, bearings, universal joints or other components. These components should be checked and corrected if necessary.
As noted earlier, the most effective method for preventing and alleviating roll problems is to continuously monitor roll performance and condition. For more information on preventive roll maintenance, contact your Valmet representative.