Drum pulping delivers high pulping efficiency in recycled fiber applications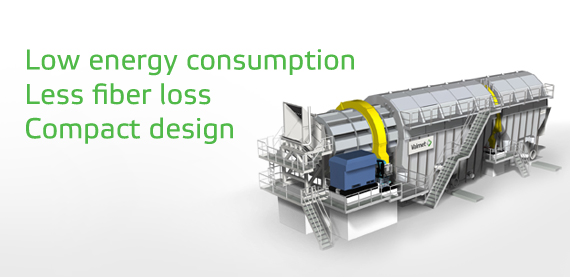 Valmet Drum pulper's high consistency treatment enables efficient fiberizing and ink detachment even from very contaminated furnish. The gentle slushing action of a drum pulper does not break up impurities, making them easier to remove in the subsequent process stages. Continuous operation stabilizes and improves the efficiency of the entire process, ensuring consistent pulp quality.

The key slushing factors, time and impact energy, are tuned by adjusting the roll angle and speed to create the optimal vertical and horizontal flows inside the pulper. This makes it possible to optimize the treatment of different raw materials for various end-use requirements. The screen section is equipped with multiple dilution spray piping that also broadens the pulper's operating range.
Valmet's innovative drum pulper produces two fractions – fine accept and coarse accept. Two different hole size zones and two accept vats enable screening while slushing.