Valmet Total Solids Measurement - Valmet TS
Valmet Total Solids Measurement (Valmet TS) is a reliable and accurate microwave real time measurement used to control and optimize the solids treatment process, giving operators information on the total solids 24/7. Being the most reliable and accurate measurement for wastewater applications, Valmet TS allows savings in polymer dosing, energy, and transportation.
Industrial quality for all solids treatment applications
Measurement of solids in wastewater treatment has always been a questionable proposition. Limitations in measurement accuracy along with long term reliability has been a concern to plant operators and engineers. Adding to this, one of the biggest challenges is the fact that solids treatment and disposal makes for over 30% of the wastewater treatment costs.
Valmet TS utilizes microwave technology to determine total organic and inorganic solids content in the range of 0-50%. With Valmet TS wastewater plants can achieve big savings with mass flow based controls, and further advance the environmental and public health benefits in the community. Controlling and developing the process can be enhanced through accurate and fast measurements, which improves the overall efficiency of a wastewater plant and provides crucial data for dewatering optimization.
Valmet TS sensors are also suitable for explosion-proof applications having ATEX, IECEx, and UKEX certifications.
The most accurate and reliable measurement of total solids
Provides higher solids content in sludge
Savings in polymer dosing
Energy savings in pumping
Reduced heating cost at the digester
Increased capacity with existing plant
Optimized biogas production
Reduced transportation costs
Highly efficient use of dewatering centrifuges
Less laboratory analysis
Maintenance-free
Single point calibration
Long experience and know-how in microwave technology
Solids process optimization
Primary clarifier pumping
More capacity – Less water pumped to the sludge process
No accumulation of solids in the clarifier
Energy savings in pumping
Thickening process
Savings with polymer dosing
Digester
Heating energy savings
More gas production
EX certificated (Ex II 1/3 G Ex ib nR IIC T4 Ga/Gc)
Sludge dewatering
Optimized polymer dosage based on massflow
Typically savings of 20% with optimal polymer dosing
Dry cake solids amount optimization
Less water in the dry cake
Savings in transportation and incineration costs
Check your savings potential
Superior solids measurement solutions for wastewater – Click here to find out your return on investment with our ROI tool calculator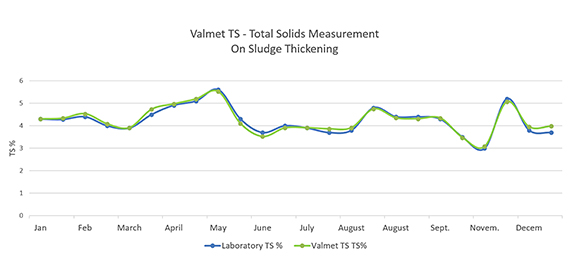 New user interface with Valmet Bridge – The new and easy-to-use terminal platform

Sensors are operated with the Valmet Bridge operating terminal. The terminal is a user interface for all Valmet inline sensors and contains a 7" capacitive touch screen with trending capabilities. Valmet Bridge interface offers an improved user experience, offering easy calibration, instant trending capabilities, intelligent diagnostics, and remote access.

Twin Blade sensor

The new Twin Blade sensor model can be installed in all measurement points needed to measure solids. This sensor is suited as well for larger pipe size installations. A process temperature and pressure measurement are integrated in the sensor. The sensor is installed through a process coupling to the process pipe. The sensor has two fin shaped blades with flush-mounted antennas, and the measurement takes place between the blades.

Flow Through sensor

The body of the Flow Through sensor is a pipe that replaces an identical length of process pipe. Flush-mounted antennas are installed on opposite sides of the sensor body, so that the measurement takes place through the pipe. Sensor electronics casings are installed on the sensor body by means of a base bar, and temperature and pressure sensors are installed inside the base bar. Antenna cables are located behind separate protective cover.

Different linings, such as non-stick lining and rubber lining, are available to suit the challenges in different kinds of applications (e.g. contamination problems, grease, fat, and abrasive material). For high pressure rating applications, Valmet TS offers a high pressure Flow Through sensor.
Watch these customer success stories and read about other cases in the articles below