Customer case:
Innovative measurements and automation improve sludge dewatering
Oulun Vesi, a utility company in Finland, provides high-quality and reliable water services to the region and runs two wastewater treatment facilities. Most of the wastewater is treated in the Taskila treatment plant, which is the biggest wastewater treatment plant in Northern Finland. Valmet's automation and modern wastewater treatment solutions enable Oulun Vesi to stabilize sludge, treat it more efficiently and meet environmental criteria long into the future.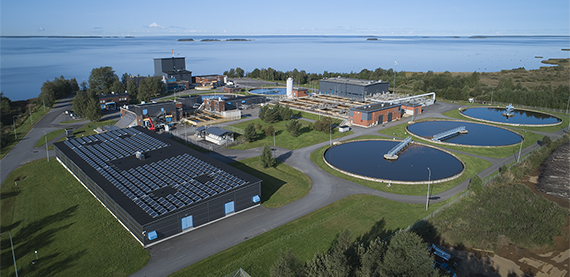 At Taskila, we have run our operations with Valmet's automation systems and measurements for a long time, and we have good experience with them. That's why it was a natural and easy choice to continue using Valmet's technology in the new dewatering facility, too.
Summary
Location
Oulu, Finland
Challenge
The plant decided to build a completely new sludge dewatering system, as rebuilding the old one was no longer reasonable. A new system with modern solutions was needed to ensure the trouble-free and efficient treatment of sewage sludge well into the future.
Solution

Extension to the existing Valmet DNA Automation and Information Management System and advanced solids measurements for the new dewatering unit: Valmet Total Solids Measurements (Valmet TS), Valmet Low Solids Measurements (Valmet LS), and Valmet Dry Solids Measurements (Valmet DS)

Results

Real-time sludge dewatering status information enables the adjustment of the process to get the desired dry solids content and centrate concentration
Stable sludge dewatering process
Efficient treatment of sludge
Savings in polymer dosing, energy and transportation costs

Keywords
Wastewater, Solids measurement, Automation, Finland