Customer case:
New press section rejuvenates Greif corrugating medium machine
The Greif Packaging mill in Riverville, Virginia, USA decided to modernize key parts of BM 1, thereby boosting productivity, gaining ground in quality and trimming production costs. As the focal point of a BM 1 corrugating medium machine rebuild, they replaced a 1975-vintage bi-nip press section with a Valmet shoe press section. The on-time and under-budget project, which concluded in June 2015 after a 26 day shutdown, was accomplished with no accidents in over 100,000 man hours.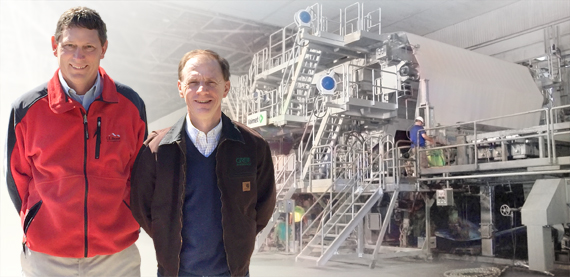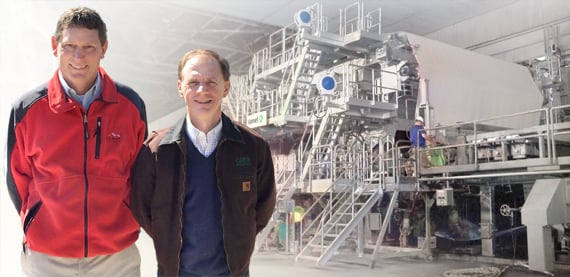 Prior to the rebuild, we were either drying or drive speed limited. This press section project has enabled us to increase machine speed by 20% consistently while running the 23# grade, and in the future, we expect to run 30% higher speed.
Summary
Location
The Greif Packaging mill in Riverville, Virginia, USA
Customer challenge
Need to produce a product competitive in the market place. Press section was a bottleneck, BM1 was drying/speed limited.
Solution

1975-vintage bi-nip press section was replaced with a Valmet OptiPress Center shoe press section.

BM clothing co-operation with matching Valmet press felts designed to give maximum nip dewatering.

Results

Productivity improvement

Machine speed increased at least 20%
Production records 100 t/d increase

Energy efficiency

Sheet dryness 17% increase (to 48%)
Energy savings 25% on BM1

Quality improvement

Higher density/lower caliper, better runnability on corrugators
Streght tests meet targets at higher production rates.

Keywords

Board and paper, North America, Rebuilds
Greif Riverville BM1
| | |
| --- | --- |
| Grade | Corrugating medium based on hardwood semi-chemical pulp and OCC furnish |
| Basis weight range | 23 to 40 lbs (112 to 195 g/m2) |
| Wire width | 282 inches (7 160 mm) |
| Design speed | 3 000 fpm (914 m/min) |