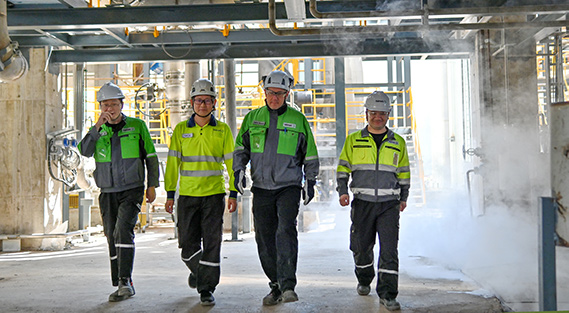 Shutdown management services for pulp producers
We plan, execute, manage, and develop maintenance activities according to your needs
Shutdown management services include planning, coordination and execution of shutdown projects. We offer transparency in both planning and execution phases with cost and schedule management. We also provide safety planning for the whole shutdown process to identify risks and handle resources efficiently.
Optimized planning and management of a maintenance shutdown can reduce the outage time by
up to 30%
We provides safe and successful shutdown management based on long-term global experience, with services that include:
Planning and scheduling
HSE assessments and continuous updates
HSE supervision
Procurement management, including evaluation of supplier bids and support negotiations
Full site management
Quality assurance and quality control
Reports with findings and recommendations for future improvements
Extensive experience running pulp mill shutdowns
Benefits of an outsourced shutdown:
Minimized downtime
Cost and schedule management
Safety planning for the whole shutdown - Maximized safety
Transparency in planning and execution phase
Improved risk identification and mitigation - Minimized risks
Right skills and competences
Faster start-up and revenue generation
We have extensive experience running pulp mill shutdowns
over 100
shutdowns executed annually around the globe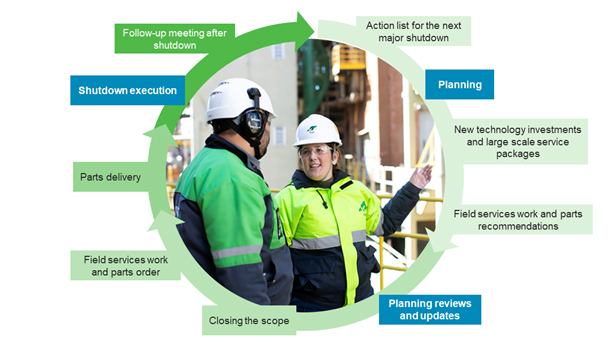 Annual clock and maintenance shutdown planning cycle
You can concentrate on your business and secure the best possible condition of your critical production equipment. We plan and implement annual/major shutdowns professionally and you avoid cost and schedule overruns.
We have a unified way to serve to ensure repeated high performance throughout ever shutdown
Working safely
Listening to you
Being responsive and committed
Delivering what has been agreed.