Wire Winder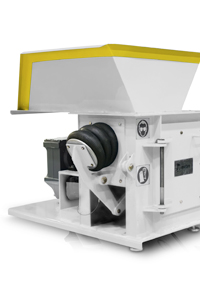 Efficient compaction of wire from bales and bale units
Valmet Wire Winder, a safe and easy-to-use compacting machine for wire from pulp bales and bale units, ensures smooth handling of wire collected at manual dewiring stations.
Optimum compaction method
Valmet Wire Winder offers the safest and most efficient solution for handling wire cut at manual dewiring stations on pulp receiving lines. The cut wire is manually loaded into the machine's feed chute. A coiling screw – equipped with spikes to grip the loose wires – rotates to create a wire coil. A wire carrier pushes the wires against the coiling screw to ensure a highly compact coil. When the coil is finished, the main hatch is opened and the coil is ejected during reverse rotation of the coiling screw. The machine produces wire coils with a maximum width of 500 mm and maximum weight of 150 kg. The finished coil can easily be picked up by a fork-lift truck for onward transport.
Ready-to-use solution
Valmet Wire Winder is delivered as a ready-to-use unit, complete with saftey grip, drive unit and pneumatic system.
Alternative application
As well as in manual dewiring applications, the Wire winder can also be used to compact steel wires from a tying machine test station.
Safety grip switch
The coiling screw is operated by a safety grip switch, an enabling device that is linked to the machine's internal monitoring system. This safety feature ensures maximum protection for the operator.
Key benefits
Safe, efficient wire compaction

Ready-to-use solution

Alternative application

Safety grip switch