Dewiring stations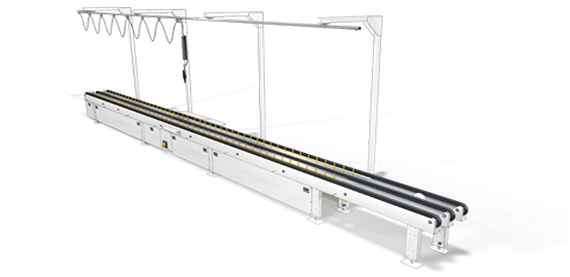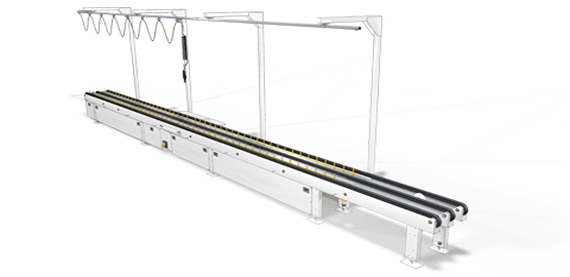 Valmet offers safe and efficient dewiring stations for single bales, functioning either as reject bale conveyors or to provide manual dewiring in lines serving continuous or batch pulpers
Specialised dewiring solutions
Our manual dewiring stations MDB (Manual Dewiring Batch) and MDC (Manual Dewiring Continuous) cover all your manual dewiring needs for pulp receiving lines.
Safe dewiring for batch pulping
The MDB-H station consists of a heavy duty conveyor, a pneumatic bale lift and a manual cutting tool for steel wire attached to an overhead guide rail system. The conveyor uses 50 mm chains and is commonly used in manual dewiring stations on lines serving batch pulpers. The chain return parts on the conveyor are behind fixed protection to ensure highest possible safety. The conveyer is furthermore equipped with a rope pull safety switch is present along the conveyor beam on the operator side in order to further increase the safety for the operators. The MDB-H conveyor is equipped with a separate bale loading zone. The conveyors can alsobe furnished with a work platfrom and an integrated forklift protection and bale guard, as well as visual and auditory signals, to further improve the ergonomics and safety for the operators.
Efficient bale reject stations
Bales that trigger the metal detector after automatic dewiring are diverted to a bale reject conveyor for manual dewiring. An MDB-L station using a standard conveyor equipped with 1" chains is ideal for this task, providing efficient and safe handling conditions for inspection and dewiring.
Key benefits
Maximum safety
Dewiring stations for all needs
Safe dewiring for batch and continuous pulping
Efficient bale reject stations
Dedicated conveyor for continuous pulping