Wire Remover-Bale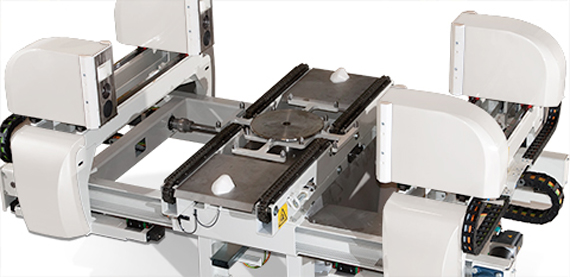 Valmet Wire Remover-Bale is the fastest and most cost-efficient dewiring solution for single bales.
Automatic dewiring of single pulp bales
This fully automatic, high-capacity machine removes all wire configurations at rates of up to 140 bales/h. To cover the full range of capacity needs, an upgradable low-capacity version is also available.
Efficient removal of all wire configurations
The machine operates safely and efficiently to remove any wire configuration, regardless of the numbers of wires, their location on the bale or the size of the bale. The cutting procedure produces minimal wrapper waste, and changing cutting tools and winding crowns is a quick, easy and inexpensive procedure.
The fastest dewiring solution
Wire remover-bale is the fastest dewiring system available for single bales. Rates of up to 140 bales/h can be achieved when cutting the commonly used 2 + 2 wire configuration. This high capacity is due to an advanced technical platform that uses pneumatics and servo technology instead of hydraulics. An alternative version with only one cutting unit and one coiling unit (WRUD-LC) is available for lower capacity requirements. If capacity needs to be increased, it is easy to upgrade the machine to a full-capacity version.
Safe wire handling technology
Wires cut from the bales are automatically formed into compact, recyclable coils. With no long or loose wires, the coils are safe and easy to handle. Valmet's dewiring technology not only reduces risks for operators, but also ensures the smoothest, most efficient solution for handling cut wire. This well-proven coiling technique is also used in the Wire remover-unit.
Quick installation and rapid retrofit
Cost-efficient automatic dewiring of single bales can be planned into a new line or easily retrofitted into an existing pulp receiving line. The machine is delivered as a ready-to-use unit designed for fast installation and start up. In fact, it is possible to install the Wire remover-bale and put it into production in a single day. Efficient everyday operation is ensured by the superior control system, featuring PLC control equipment, which is operated and monitored via a touch-screen with an easy-to-use graphic interface.
Key benefits
Cuts all wire configurations
Fastest dewiring solution
Safe wire handling
Quick installation and start up