Apr 6, 2023
To achieve production excellence, Mercer Stendal wanted to further improve its pulp washing process and invested in Valmet's TwinRoll technology and modern monitoring tools. The results have been outstanding.
When Mercer's Stendal mill was inaugurated in 2004, it was by a distance one of the world's most modern bleached softwood kraft (NBSK) pulp mills. The mill has continuously striven harder to maintain its position, undergoing several large optimization projects in recent years. It currently has a 740,000-tonne annual pulp production capacity with uncompromised fiber quality.
Brown stock washing is one of the processes which have recently seen improvements: The critical TwinRoll press was upgraded with new Valmet rolls, and the press was also equipped with a state-of-the-art monitoring system to follow the pulp flow.
New rolls for improved reliability and performance
Valmet's pulp press washing and dewatering technology expertise has evolved for decades – we have designed and manufactured rolls for TwinRoll presses since the 1950s. The Valmet TwinRoll Press Roll G6 represents the sixth generation of rolls, combining proven roll design details with several new features from the surface to the core. The improved durability leads to unforeseen reliability and an extended lifetime. Enhanced perforated plates lead to improved dewatering characteristics, as does the integrated Valmet Anti-Rewet readiness.
Since their installation in the first half of 2021, Valmet TwinRoll Press Roll G6 rolls have been operating in Stendal's brown stock washing plant without any problems.
Reliability is a top priority, especially when operating a fiberline like ours. Without relevant by-pass options, any problems with dewatering and washing equipment reliability result in production efficiency losses," says Dirk Würsig, Maintenance Manager, Mercer Stendal.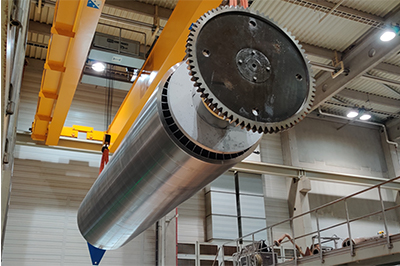 Vat Temperature monitoring contributes to production efficiency
Pulp washing is one of the most important process islands in pulp mills, and the reliability and performance of TwinRoll presses significantly affect the fiberline's overall efficiency. Disturbances in pulp flow can cause unexpected problems such as press plugging or even roll damage, and fiber quality can also be affected.
As part of its Industrial Internet offering, Valmet has launched the TwinRoll Press Vat Temperature monitoring tool, which follows the pulp flow distribution inside the press through temperature measurements, visualizing the situations when the press gets plugged, and pulp flow is disturbed, for example.
At Stendal, Vat Temperature monitoring was launched as part of the TwinRoll press upgrade and has already proven its functionality.
Valmet TwinRoll Press Vat Temperature monitoring has made press blockages visible, showing when and where they occur. In the next phase, we will focus on getting a better understanding of the root causes of the problems, and how to prevent them," says Sabine Teucke, Technology Manager, Mercer Stendal.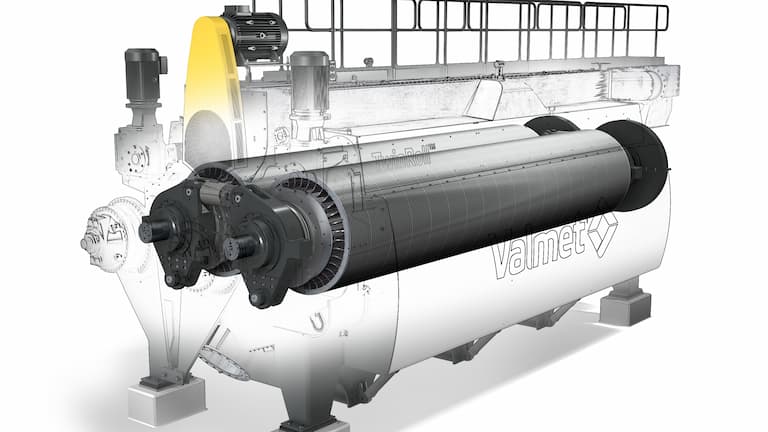 Learning and developing together
Despite the latest successful upgrades, the bar has been set higher. Mercer and Valmet are currently looking for further improvements to washing reliability and performance.
"We've already discussed strengthening our collaboration. Technological innovations are being piloted to obtain more valuable monitoring data, and we also need to learn to better utilize the data for preventive actions against equipment failures and washing efficiency bottlenecks. We're aiming for continuous improvement, and an open and honest relationship with a partner we can trust is the most important thing on this journey," Sabine Teucke says.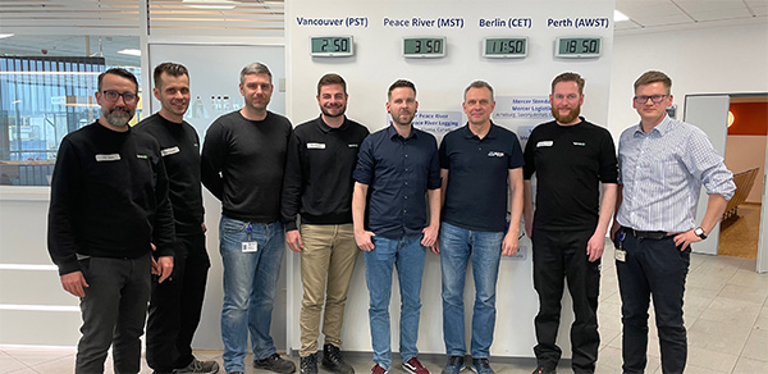 Caption: Open and honest cooperation is the key to mutual success. From left to right; Ralf Janas, Product Sales Manager, Valmet, Jan Orasmaa, Project Manager, Valmet, Andreas Kuhlmann, Maintenance Engineer, Mercer Stendal, Nils Anspach, Product Sales Manager, Valmet, Andre Schoppmeyer, Purchaser, Mercer Stendal, Dirk Würsig, Maintenance Manager, Mercer Stendal, Christian Humann, Senior Sales Manager, Valmet and Ingo Mohme, Manager Mechanical Maintenance, Mercer Stendal.
Valmet contact person
Nils Anspach
Product Sales Manager, Valmet
Tel +49 15257949295
Email: nils.anspach@valmet.com