High-performance condensate handling
Valmet Evaporation plants can be designed to produce condensates that can be completely reused in the mill. This greatly reduces the mill's consumption of fresh water.
Customized, optimized solutions for 100 % reuse of mill condensates
Each new Valmet Evaporation Plant is tailored to meet the mill's needs. Valmet Evaporation plants can be designed with optimized condensate segregation systems for effective removal of malodorous compounds. According to our experience, the methanol removal efficiency can be above 97%.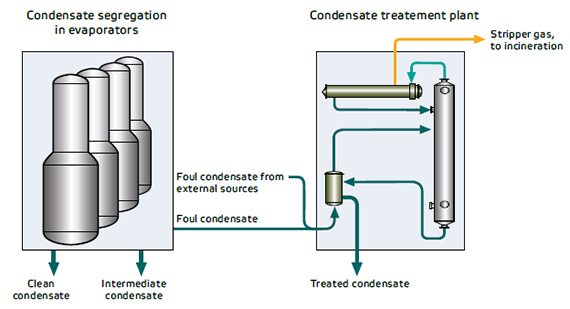 Pulp mill condensates can be treated in the evaporation plant for reuse in other parts of the mill. This can greatly reduce the mill's fresh water consumption.
Condensate segregation
Evaporators heated with contaminated vapor are equipped with our well-proven design for internal vapor segregation. With this design, 80–90% of the malodorous contaminants in the vapor may be segregated into a small foul condensate fraction. This small stream of foul condensate is normally cleaned in the condensate treatment plant. Larger streams of clean and intermediate condensates are usually reused as wash and/or dilution water in the fiberline and recausticizing plant. This substantially reduces consumption of fresh water and bleaching chemicals.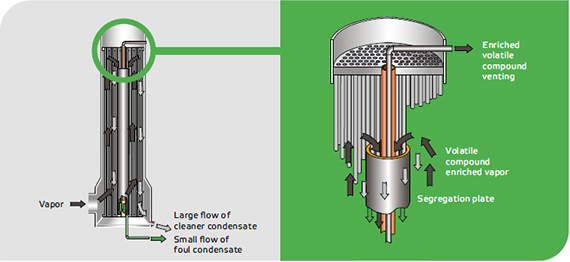 Valmet's evaporators can provide highly efficient condensate segregation.
Upgrading condensates with ICT
In an evaporation plant with internal condensate treatment (ICT), condensates are recycled and treated inside Valmet Tube Evaporators. Intermediate B-condensates are converted into clean A-condensates that can be re-used in the mill.
Condensate treatment
Our condensate treatment plant is designed for optimal cleaning of contaminated condensates from the cooking and evaporation plants. It can be operated independently or be integrated with the evaporation train for improved overall heat economy.
NCG treatment
We are a leading designer and supplier of NCG treatment systems for the collection, handling and incineration of both weak and strong non-condensable gases formed in pulp mills.
Production of sulfuric acid
Valmet has proven technology to convert CNCG-gases to sulfuric acid (H2SO4). This can significantly improve the Sodium-Sulfur (Na-S) balance and reduce the cost for make-up chemicals in many mills.
Valmet Methanol Purification
Condensate treatments plants are nowadays typically equipped with methanol plants. But to get the best value of the methanol, it should be purified.
Valmet Methanol Purification is a technology that can be supplied with new methanol plant or used to upgrade existing ones. The purified methanol is a renewable, high-quality fuel. It can be used as a fuel at the mill in e.g. lime kiln. It can also help to increase the production of the mill by debottlenecking the recovery boiler. And the mill can gain additional revenue by selling methanol.
Our expertise is at your service
Valmet is the world's leading supplier of methanol and condensate treatment plants, with more than 200 successful installations in operation worldwide. Our focus is to bring your performance forward.
To get in touch with us, contact your local Valmet office, or use the contact us pages on this web.