Valmet will supply a Valmet IQ Web Monitoring System, Valmet IQ Web Inspection System and an extensive consistency measurements package to Kipaş Paper (Kipaş Kağıt A.Ş) Paper Machine 2 in Söke, Turkey. The systems will maximize production line efficiency, end product quality and business performance.
The order is included in Valmet's fourth quarter of 2018 orders received. Typically, the value of this kind of order is above EUR 1 million.
"Kipaş Paper has a passion for making all its investments with the latest technology. We were convinced that the Valmet IQ Process and Quality Vision would provide us opportunity to prevent paper breaks during production and therefore downtime at the ongoing project PM2 in Söke. We have a successful history with Valmet based on their various solutions in Kahramanmaraş, and we believe that Valmet IQ Process and Quality Vision will make a great contribution to us in terms of production efficiency and product quality in PM2 as in the first machine," says Furkan Altunay, Electrical and Electronic Engineer, Kipaş Paper.
"As a global automation solution provider Valmet makes a major contribution to quality and efficient production in Turkey as well as all over the world. With the web inspection system and recently completely renewed web monitoring system, it is possible to speed up the process by eliminating paper breaks and increase process efficiency. We are very pleased to provide this contribution to one of the country's largest and most valuable producers, such as Kipaş," says Hamit Demir, Sales Manager, Automation, Valmet Turkey.
Information about Valmet's delivery
Valmet's delivery includes Valmet IQ Web Monitoring System with 34 high-speed cameras throughout the whole production process on PM2, designed to monitor production and web break events, seamlessly tracing them back to their root causes. Valmet IQ Web Inspection System detects quality defects and flaws across the entire width of the sheet, pinpointing any issues in real-time.
The consistency measurement package of over 50 units includes Valmet Microwave Consistency Transmitters (Valmet MCA), Valmet Rotating Consistency Transmitters (Valmet Rotary) and Valmet Optical Consistency Transmitter specifically designed for recycled fibers (Valmet OCR). Delivery also includes five Valmet Retention Measurements (Valmet RM3) for wet end monitoring and control and two Valmet Brightness Measurements (Valmet Cormec5 X), an optical in-line measurement for brightness, fluorescence, color and ERIC.

Information about the customer Kipaş
Kipaş Kağıt A.Ş is committed to produce high quality container board paper from waste paper. The company started in 2011 as a joint venture of Kipas Holding (www.kipas.com.tr) which started in 1984 as a small yarn manufacturer. Today the company is among Turkey's top 500 industrial companies. It has an annual production capacity of 450 000 tons and an annual turnover of 145 million USD. Kipaş Kağıt, supplying 17% of Turkey's total paper consumption, aims to become Turkey's largest paper manufacturer with 40% market share in corrugated paper via the two-stage investment installed in Aydın, Söke. The company will increase its production capacity to 1,200,000 t/y at the first stage in 2020, then thanks to the second paper machine 1,600,000 t/y in 2021.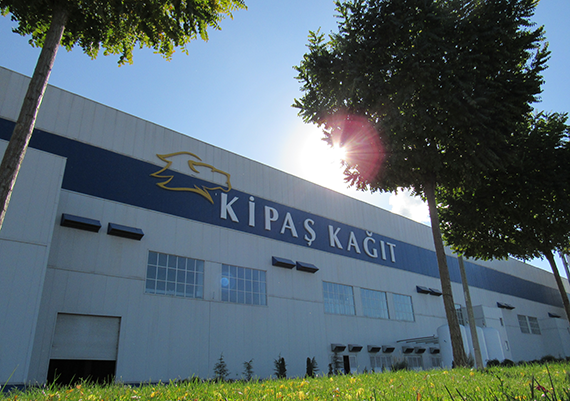 For further information, please contact:
Hamit Demir, Sales Manager, Automation, Valmet, Tel. +90 216 504 20 0