Nov 30, 2018
For Sappi Kirkniemi, Valmet IQ Quality Control System for supercalendering has enabled quality management and online verification, essential for the introduction of a new product in their manufacturing portfolio.
The Sappi Kirkniemi Mill is located in Lohja, Finland. Every year, its three paper machines produce 750,000 tonnes of high-quality Galerie papers for heatset web offset printing, serving the high-volume print market creating catalogues, brochures and publications around the world.
Faced with end-of-life issues for the quality control systems (QCSs) of two off-machine supercalenders, Sappi's Kirkniemi mill turned to Valmet for replacements. "We had already had the Valmet IQ Quality Control System on paper machine PM 3 for two years with good results, and for supercalendering, it offered us the potential for good control as well as online quality verification, essential for the introduction of a new product in our manufacturing portfolio," says Heikki Järvinen, Production Engineer from Sappi Kirkniemi. The Valmet IQ Scanners located before the winders are equipped with top and bottom gloss, caliper and moisture measurement heads with multivariable CD controls for gloss and caliper.
Supercalenders consist of steel and elastic cylinders with the paper web snaking around each roll, where heat, pressure and friction in the nips glaze the surfaces of the paper to make them smooth and glossy. At the same time, glazing makes the paper thinner, making caliper measurement a key control variable. The two virtually identical supercalenders – SC 3 and SC 4 – are 6.5 meters wide and run at an average of 600 meters a minute, with mainly ground wood and kraft-containing grades from PM 2, ranging from 54 to 80 gsm.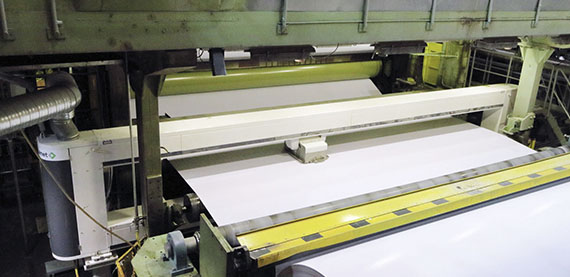 Optical caliper measurement
Installation and startup of the new QCS on SC 3 was performed in June 2017, with SC 4 following in December of the same year. Installation took three days, and there was very good cooperation with Valmet from the engineering phase to startup: "Good correlations to laboratory were seen immediately and to date we have had no problems with either system," says Ari Skyttä, Automation Project Manager at Sappi Kirkniemi.
"Caliper and bulk play a crucial role in our new product from the super calenders and the improved measurements from the Valmet scanner allow us to really see what affects the caliper and how to control it," Skyttä continues. The Valmet IQ Optical Caliper Measurement only lightly contacts the sheet on one side to avoid marks often left by contacting caliper sensors. It combines two precise measurement techniques: a magnetic principle used to measure the distance from an optical to a reference plate over which the sheet runs, and a non-contacting optical triangulation principle measuring the distance to the top surface of the paper. Subtracting these accurate individual measurements from each other provides the true paper thickness.
Automation taken to the next level
Now the quality measurements and automation are at a completely different level than earlier.
"The moisture measurement, not available on the old system, has also proved quite useful, as it allows us to double check sheet moisture from the coater where we have had some problems. Of course, the level is different after the supercalender but we can see the changes," says Skyttä.
"In 2018, we also upgraded the distributed control system (DCS) with Valmet DNA, and now the quality measurements and automation are on a completely different level than earlier. We have a lot more information that we can trust, and it is presented graphically very well by the system to be a real tool in product development," states Järvinen.
The Valmet DNA information system stores collected process and quality data, including top and bottom gloss for each parent roll, which allows the tracking of information on rolls shipped to customers. "We want to make more statistical analysis of our performance and be able to benchmark good production conditions, which is where the new systems are really useful," says Järvinen.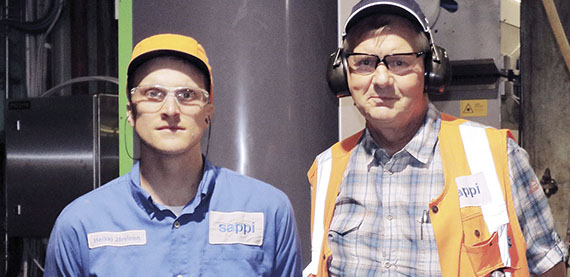 Satisfied customers
"Initially, we wanted to improve both the gloss and caliper profiles and while at the present, we can only control CD caliper, we are very satisfied. The amount of customer complaints has decreased, but we have also made many other improvements, such as moisture profiling on the paper machine. As a result, it is difficult to attribute this totally to the QCS, but the situation is definitely better," concludes Skyttä.
TEXT and PHOTOS: Nigel Farrand
Article published in Forward magazine 1/2019.
Contact: