Valmet sharing your journey forward includes providing services, technology and performance enhancing upgrades for your equipment. This article concentrates on four ways Valmet can move your shoe press forward: onsite service and upgrade packages, state-of-the-art consumables, cost-efficient conversion from conventional press to shoe press and the upcoming Shoe Press Users Group.
Shoe Press Users Group (SPUG)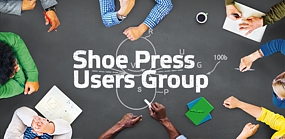 This two-day conference is designed for shoe press users to come together and exchange ideas and experiences. The conference is driven by the requirements of each attending mill - with conference input directly from you, the shoe press users. There is no charge for the seminar, but space is limited and on a first come / first served basis. Join us at the next Shoe Press Users Group for discussion of operator issues and best practices, shoe press configurations and upgrades, troubleshooting tips, theory and roundtables. Hundreds of attendees can't be wrong, so make this a must-do event on your training/conference list!
Onsite service reduces shoe press costs
Shoe presses provide high paper quality and dewatering capacity in the press section, allowing higher machine speeds with good runnability. However, keeping your shoe press in optimum condition requires regular maintenance. Valmet provides 24/7 emergency help plus assistance with regular maintenance including tailored shoe press services packages.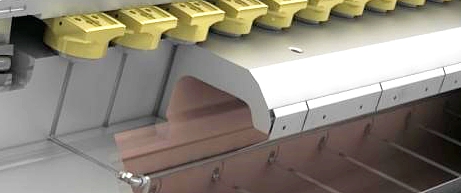 Shoe press belts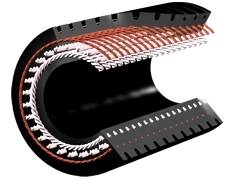 Valmet Black Belt is a unique shoe press belt made of high performance elastomer material reinforced with dimensionally stable synthetic yarns. The Valmet Black Belt H (high performance) is the newest member of the belt family, which also includes the E (extreme) model for high stability. The FT model is especially designed for tissue machines and performs at the highest speeds and loads in harsh conditions while keeping water removal at the highest level.
Mini shoe press rebuild
A mini shoe press rebuild is designed for small- and medium-sized paper and board lines. It is a simple and practical solution to a normal large rebuild. The mini rebuild solution makes it possible to boost production with minimal changes to the press section geometry along with minimum down-time and low investment costs.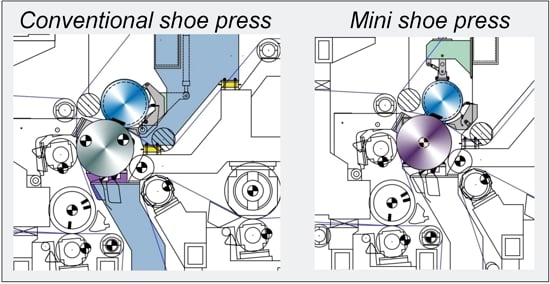 The mini shoe press rebuild includes a shoe press roll on which the shoe length and roll diameter have been minimized. The diameter of the counter roll, a solid roll, also has been optimized. The rebuild can be carried out with minimal changes to the existing press section geometry, frame and surrounding components, which significantly shortens shutdown time. Paper and board makers will get from paper to paper sooner and the increased production and efficiency thanks to the rebuild yields a shorter investment payback time.
A mini shoe press rebuild gives 2 to 3 % higher dryness, which improves runnability and enables a higher speed, thus enhancing productivity.
For more information on improving your shoe press operation, contact your Valmet representative.