Regarded as the "Nobel Prize" in the field of mechanical pulping, the Arne Asplund Mechanical Pulping Award was established in 1985 to commemorate Dr. Asplund's contribution to the pulp and paper industry worldwide.
The award consists of a gold medal and an honorarium of SEK 25,000.
The prize was awarded for the 14th time on 27 September in conjunction with the 2016 International Mechanical Pulping Conference (IMPC) in Jacksonville, Florida, USA.
The prize was shared by three people and it pleases Valmet that one of these prizewinners is one of its own. This happened only once before when Arne Asplund himself was awarded the first prize in 1985.
Galileo grinding segments
Together, the prizewinners have developed a completely new grinding segment concept for ground wood pulp (GW, PGW) that cuts energy costs in the pulp production.
The market name for this technology was named after Galileo Galilei, the innovative Italian scientist who also broke boundaries during his time. With Galileo grinding technology, reductions in energy consumption can be as much as 300–500 kWh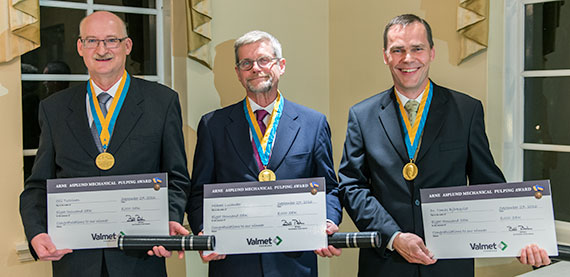 From left: Olli Tuovinen, Mikael Lucander and Tomas Björkqvist