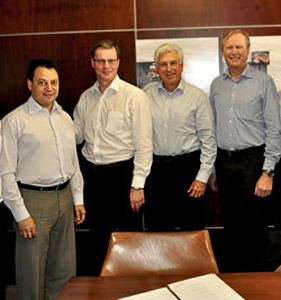 Valmet supplies all main technology for the 1.5 million tonne greenfield pulp mill of Suzano Papel e Celulose S.A., to be built in the state of Maranhão in the northeastern part of Brazil. Start-up is scheduled for the first half of 2013.
The value of the order is not disclosed. However, a typical value of an order of this size and scope is EUR 800-900 million.
The scope of supply covers the main parts of a green field pulp mill comprising wood handling, cooking plant and fiberline, pulp drying and baling, evaporation, power boiler, recovery boiler, causticizing and lime kiln, including an integrated automation solution for all process areas. The new mill will produce 1.5 million tonnes of bleached eucalyptus market pulp per year.
"The order from Suzano emphasizes Valmet's strong capabilities as a full-scope supplier for the global pulp industry. It is a result of the hard work our dedicated and knowledgeable employees have done in developing and providing leading-edge technologies", says Pasi Laine from Valmet.
Photo: Celso Tacla (left) and Pasi Laine, President Antonio Maciel Neto from Suzano Papel e Celulose and Bertel Langenskiöld.
Suzano Papel e Celulose is a forestry-based company and one of the largest vertically integrated producers of pulp and paper in Latin America. The company's main products, sold on the domestic and international markets, are eucalyptus pulp, printing and writing paper and paperboard.