Today's energy producers are facing many challenges: aging production facilities, cost pressures, challenging fuels, new emission regulations, and the rise of renewable energy sources. A recharge with Valmet can be an answer to these challenges.
"Recharge means finding improvements and new opportunities for our energy customers," says Owe Asp, Vice President of the Energy and Environmental Services business unit.
Valmet assists energy producers in recharging their heat and power plants, gasifiers, flue gas cleaning equipment, and other combustion and pressure part equipment. This includes field services covering everything from fast, on-call troubleshooting to planned, practical and strategic undertakings carried out on a continuous basis.
"We can also take full responsibility for shutdowns, and with new technology, we can recharge the capacity of our customers' assets. In addition, recharging the personnel with theoretical and practical training is an option," explains Asp.
A recharge moves performance forward
"Through real partnership and advanced products and services, a recharge can take energy plants' reliability and performance to the next level," tells Asp. "We have been in this business since 1841, and every year, we recharge approximately 200 power boilers around the globe. Based on our long experience and profound know-how, we can help to improve our customers' everyday performance, and their profitability and sustainability in the long run."
Ensured availability, higher production, higher safety standards, fuel flexibility, reduced operating and maintenance costs, and reduced environmental impact are among the benefits that energy plants have achieved with a recharge.
"We have a global network of service professionals, who are always close by and ready to serve. Real trust is earned on site, every day, and therefore, we make sure to always go that extra mile and stay with the customer until everything works as expected," says Asp.
New names for Valmet's services
Valmet continuously recharges its own products and services to supply its customers with the best available solutions. Therefore, Valmet has renewed the names of its services. More descriptive names help in creating a fluent dialogue between customers and Valmet on a shared journey forward.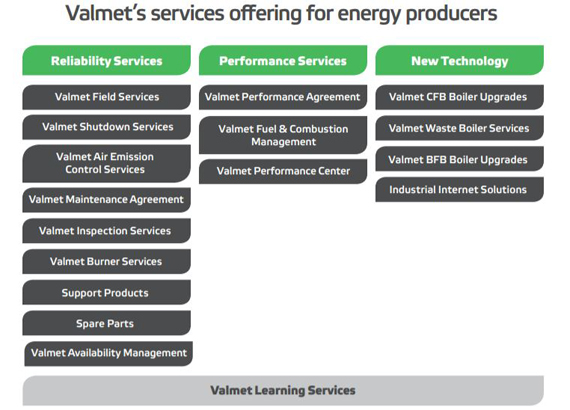 Published in Forward 1/2018