Jun 23, 2022
Spring 2022 marked an important milestone for Fabrics and especially the local team in France. Over the years, Valmet has delivered more than 200 seamed press felts for Fibre Excellence's pulp mill in Saint-Gaudens. The occasion was celebrated at the customer site with coffee and cake on the 26th of April.
Valmet's Product Sales Manager Denis Houdault couldn't be happier about the achievement.
"Being able to deliver over 200 seamed press felts to a customer is great, but to me the celebration means even more. It is about looking back at the past 12 years of our collaboration and appreciating the excellent relationship we have been able to build with Fibre Excellence's staff at Saint-Gaudens", he says.
The first orders were placed in 2010 shortly after Valmet's first site visit. Today, Valmet is a 100 % supplier of press felts for the mill's pulp drying machine.
"We found the common ground pretty fast and already in 2012, we signed the first three-year Fabrics Agreement. Up to date, the agreement has been renewed three times and is currently effective until the end of 2024. I'm very thankful for the trust the customer has shown us", Denis says.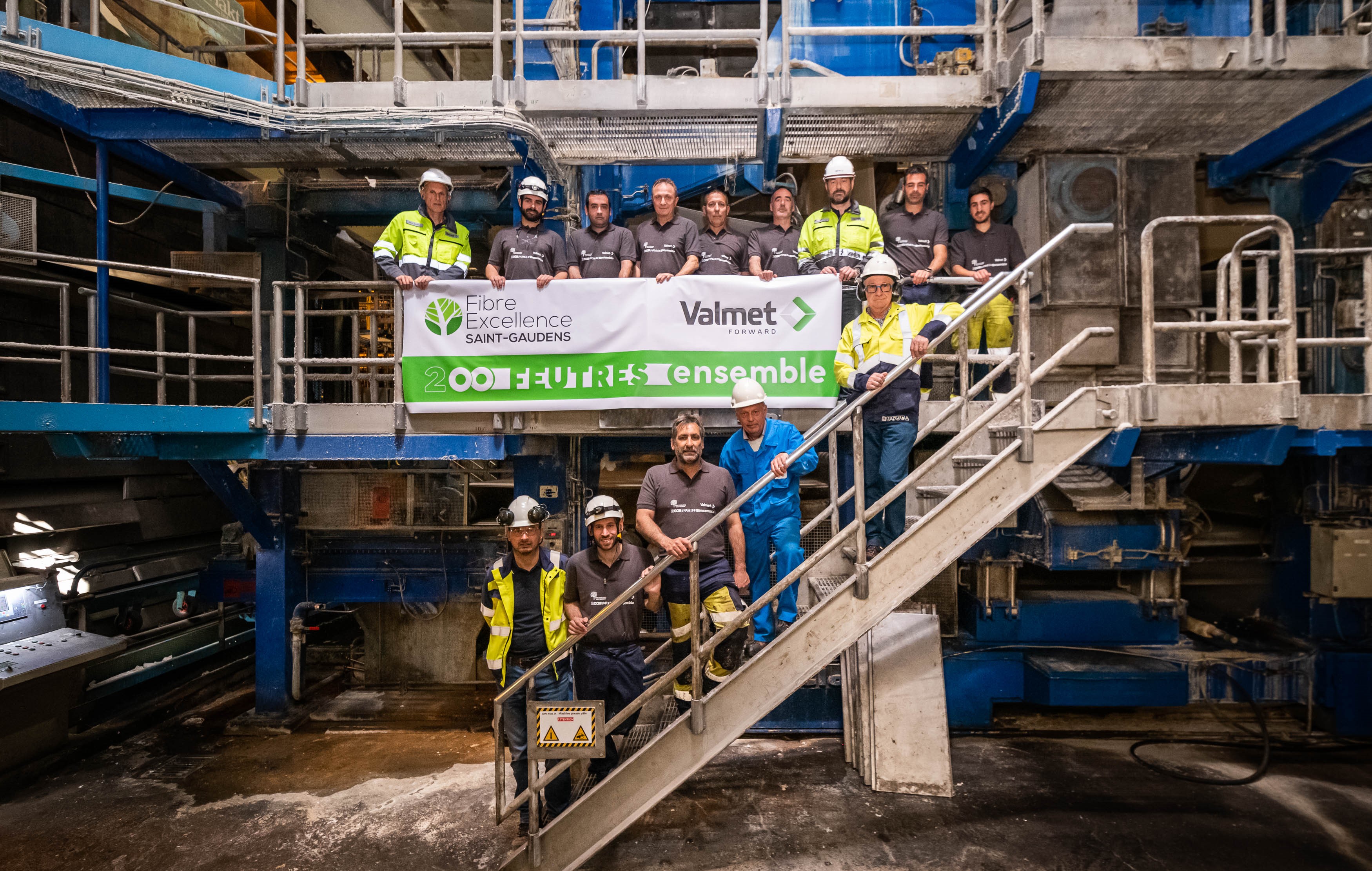 Customer's choice: Valmet SMO
Valmet press felts are always tailor-made to the specifications of each individual pulp drying machine and customer's key targets. Right from the start the people at Fibre Excellence have been impressed by Valmet's press felts' potential lifetime of 12 weeks.
"From our vast product offering the customer opted for the seamed press felts that provide a safe and quick installation. Today, seamed press felts are used in all the positions of the customer's pulp drying line – by the way an excellent reference among the pulp customers around the world", says Yannick Duperrier, Senior Mill Sales Manager.


"We have really appreciated the easy installation of Valmet's seamed press felts. They are also easy to keep clean, contributing to the runnability and efficient performance of our pulp drying line"


comments Benjamin Oiffer, Fiber line Manager, Fibre Excellence Saint-Gaudens.
Success is a joint effort
Over the years, Valmet has performed many audits at the site – learning about the machine's special characteristics and the customer's process.
"The audits have given us a deep insight of the machine, enabling us to promote optimal press felt designs for all positions. I'm proud to say our global pulp drying expertise has been at the customer's disposal upon request and since the beginning of our relationship the number of unexpected breaks on the pulp dryer has been cut dramatically", Yannick says.
"At this point we'd like to take the opportunity and address a huge thank you to all our colleagues that have contributed positively to the customer experience of Fibre Excellence. Let our journey continue!" Denis and Yannick say.