May 8, 2018
The drying machine 1 at OKI, a project carried out by APP with technology supplied by Valmet, has achieved a new production world record in April 2018, with a total capacity in a single machine of 4,348 air dried tonnes per day.
OKI has two machines of 10.6 m wide, each being the widest and highest capacity built in the world, and the new record places the company in the vanguard of pulp drying technology, exceeding by 500 ADt/d the second place of any other machine in the world.
This is an outstanding result from the joint work of Valmet and APP.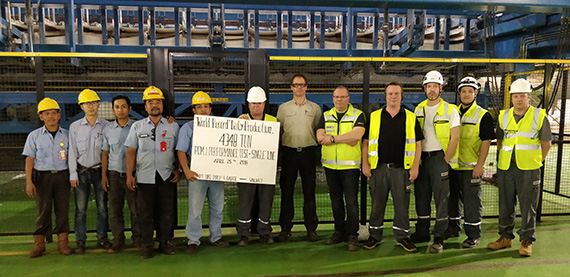 The joint APP and Valmet team on site when the new record was set.
Valmet has supplied key technology for OKI Pulp and Paper Mills in Indonesia. Valmet's delivery included two pulp dryers, two biomass gasifiers, two biomass boilers, two lime kilns, an evaporation system and ash crystallization.