Dec 18, 2020
Digitalization and use of analyzers support producers; flaws in wood cooking are important indicators of performance and business possibilities. The Valmet Dirt Count Analyzer installed at CMPC Guaíba, offers a greater volume of data and information for decision-making.
With the advancement of technology and of intelligent data generating systems, such as those offered by Artificial Intelligence and Big Data, making decisions increasingly requires interpreting information from machines. A study by the National Confederation of Industry (CNI), which predicts digital trends until 2025, shows that digitization results in 25% more efficiency, a reduction of 10%-40% in maintenance costs, more flexible and customized production, and faster launch of new products and new business models.
Pulp and paper producers have already digitalized their production steps. The quality and classification of the cellulose sheet is determined by several KPIs (Key Performance Indicators); in order to analyze the purity of the product, the amount of dirt, which represents imperfections in the pulping process, is checked. These analyzers allow the correct evaluation of pulp and avoid operational problems for buyers.
Valmet, a world leader in developing and supplying technology, automation, and services to the pulp, paper, and energy sectors, has developed an updated Valmet Dirt Count Analyzer (Valmet DCD), which is installed in Rio Grande do Sul's largest paper mill, the century-old CMPC in Guaíba. The analyzer evaluates the dirt content and brightness of the entire production lines 2 and 3 of the mill, with an average production of 5 thousand tons of pulp per day. "We identified that the main difficulty was related to the measurement of a specific type of dirt, called Yellow Shives. This phenomenon didn't generate enough contrast for the analyzer's measuring cameras to produce images," explains Valmet's senior application technician Anderson Mainardes.
A system upgrade, with high-resolution cameras and blue light application that provide enough contrast to measure the majority of Yellow Shives in the process, has been developed at Valmet's headquarters in Finland. With this equipment upgrade and calibration, as well as solutions delivered by Valmet's team, the Finnish multinational has discovered how to improve the equipment installed in CMPC's pulp machines. These updates and changes have been generating important data for production teams for two years.
Using Valmet DCD is key in classifying the pulp sheet for commercial purposes. Since it offers fast measurement, you can get samples and results every 15 minutes that generates a larger volume of data and more information for decision-making.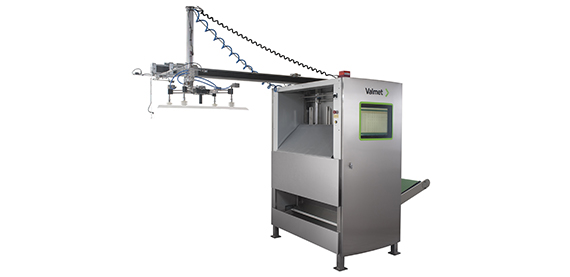 Valmet is the leading global developer and supplier of process technologies, automation and services for the pulp, paper and energy industries. We aim to become the global champion in serving our customers.
Valmet's strong technology offering includes pulp mills, tissue, board and paper production lines, as well as power plants for bioenergy production. Our advanced services and automation solutions improve the reliability and performance of our customers' processes and enhance the effective utilization of raw materials and energy.
Valmet's net sales in 2019 were approximately EUR 3.5 billion. Our 14,000 professionals around the world work close to our customers and are committed to moving our customers' performance forward - every day. Valmet's head office is in Espoo, Finland and its shares are listed on the Nasdaq Helsinki.