Valmet's Technology Seminar at PaperCon 2017 now available as an archived webinar!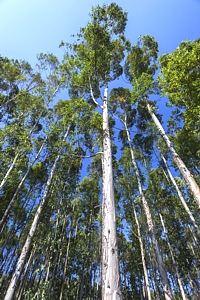 For several years Valmet has been actively involved in TAPPI's PaperCon annual conference. We do so by kicking off the conference with a Technology Breakfast Seminar just before the PaperCon's opening session, updating North American customers on the latest Valmet and industry developments. In 2017, Valmet opened the seminar to virtual attendees with a live webinar where the Valmet experts in the room were also broadcasting live via the internet. This included a Q&A session where questions from in-person and virtual attendees were answered.
This webinar was open to all paper- and board-makers and is now available as an archived Valmet webinar. Click HERE to view the webinar.
Valmet papers/presentations at PaperCon
In addition to the seminar/webinar, Valmet presented in the technical sessions...
Case study: Production impact of underperforming process air fans
The largest commodity or resource used in paper making is not wood, water or fuel - it's air. A lot of fans and motor horsepower are needed to move all of the air required in the paper making and coating processes. When fans are not properly maintained or are incorrectly setup, their performance suffers. This leads to potential process issues, environmental issues, wasted energy (HP) or a loss of reclaimed energy. Consider all of the fans and their associated motors and how they are used at a paper mill; now imagine how this could potentially impact the bottom line at a mill. Don presented a case study example of coater dryer performance, followed by telltale signs to look for and how to address them.
Using automation to predict and control board strength properties in realtime
Board production faces many challenges in terms of energy, production, quality and costs. As end users demand good convertibility, printability and strength properties at an optimized cost level with reduced basis weights, board producers must cope with an increasing number of grades and alternative raw materials. In addition to being critical quality measurements, sheet strength properties are key parameters affecting machine speed, runnability and production costs. When information from online fiber property analyzers is combined with reliable strength measurement feedback from automated paper laboratory tests, paper quality can be both predicted and controlled. A multivariable control concept utilizing soft sensors has been developed to estimate sheet strength properties in real time from stock preparation all the way to the machine dry end.
To see the full picture of how final product quality is developed it is important to understand the effect of pulp furnish quality. High definition image analysis of fiber fibrillation, fiber length distributions, fines, freeness, and other key fiber morphology measurements are used to identify the relationships between pulp and final product quality. Soft sensors estimate sheet strength by combining the information from online analyzers measuring furnish fiber properties at several sampling locations, the QCS scanner, sensors measuring wet end retention, plus various measured machine parameters. The soft sensors continuously calculate virtual measurements of sheet strength, regularly updated and corrected by actual measurements from the automated paper laboratory. Controlled variables can include refining power, stock mixing, chemicals and starch addition as well as on-machine conditions such as jet to wire ratios, slice opening, press and draw controls.
Greg's paper detailed the possibilities offered by soft sensors and controls to provide the means to optimize the entire process. Results from recent analyses and installations were presented.
Management of dimensional stability
Curl and surface fiber orientation issues can severely affect production speed as well as the quality of board and paper, especially into converting operations. Recent achievements in measurement and control technology offer paper- and board-makers new tools to better manage the dimensional stability of board and paper.
This paper took a brief look into the behavior of fibers that affect dimensional stability; specifically, the development of curl and influence of surface fiber orientation on paper and board quality were discussed. Curl control by utilizing moisturizers across the sheet was presented to avoid the adverse effects of drying of fibers in the sheet and reduce production bottlenecks. The most important enabling factor in curl avoidance is the achievement of full-sheet, even and fine spray coverage. Curl control is also applied to corrugators with good results.
Top and bottom layer fiber orientation control in multi-layer board machines was discussed as part of a dimensional stability management concept which includes online measurement of surface orientation by photometric stereo and a multivariable CD control strategy for closing the loop.
Seyhan also presented application results from both paper machine curl and corrugator warp control.
To view the webinar, click on the related link. For more information about Valmet's papers and presentations, contact your Valmet representative.