Some of the most interesting new developments in pulp and paper involve the evolution of industry 4.0 and digitalization. While each news story about the mill of the future builds excitement, it also adds to the amount of information piling up for decision makers to sift through and understand.
The need to modernize outdated systems, reduce environmental impacts and continually optimize performance are just some of the factors driving interest in the topic. Additionally, the tight labor market and changing workforce have forced mills to re-evaluate their plans and activate new ways of working in the future.
But what does this all mean for the future, and what does the push toward the autonomous mill actually look like? Join Valmet for an interview-style webinar on autonomous mills as part of a new webinar series that looks at the big issues facing pulp, paper and tissue producers in North America.
Click HERE to view this webinar.
On Wednesday, March 30, 2022, our moderated panel of experts (David Eapen, Ryan Long and Seyhan Nuyan) answered your questions and helped you:
Explore the megatrends driving the push toward autonomous mills.
Understand the steps companies are taking to prepare for this digital transformation.
Discover how Industrial Internet and Automation solutions can help mills achieve their digitalization goals.
A departure from previous webinars, the autonomous mill webinar was focused entirely on questions we received before and during the webinar. A brief overview of some of the terms used in this webinar follows...
Terms used when discussing autonomous mills
Internet of Things (IoT)
Valmet uses this term to show extensive OEM expertise and knowledge specific to the board, paper and tissue industries to serve its customers with digitization services including advanced monitoring and prediction applications.
Industrial Internet of Things (iIoT or IIoT)
A subset of IoT, this term was coined by General Electric. The focus is enhancing the productivity and reliability of communication and control in mission critical applications.
Industry 4.0
This is the use of cyber-physical systems to enhance and automate value chains in manufacturing companies. It takes the idea of Industrial Internet further to a computerization of the manufacturing industry, and includes concepts such as 3D-printing and augmented reality.
The steps toward a fully autonomous mill
Is full mill autonomy possible? Valmet has decades of experience assisting mills on the path toward autonomy. Where is your mill in this progression?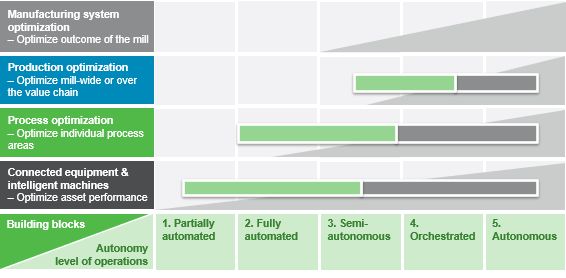 Valmet's framework for autonomous operations with data driven solutions and across-value-chain collaboration
Partially automated - Most subtasks are in control. Humans specify set points and are in charge of safe operations. A lot of field inspections and manual interventions are required.
Fully automated - Basic process controls are in use for all processes. Machine vision is applied to reduce field inspections. Humans react to abnormal situations and are in charge of safe operations.
Semi-autonomous - Occasional autonomy is achieved through advanced process controls for particular performance or economic improvement. Robots handle hazardous field tasks. Humans supervise and define the intent.
Orchestrated - The system alerts and advises regarding the best performance or economic operation point at the mill level. The system adapts to deviations dynamically. Humans confirm the actions.
Autonomous - Production at 100% control in all situations without manual intervention. The system is able to react to deviations or disturbances automatically. Humans may supervise the operations.
For more information on acheiving full autonomy at your mill, watch the webinar and contact your Valmet representative.