Dec 11, 2018
Getting the most out of a production line in terms of capacity and paper quality demands a number of skills, the capability to run at high speed, reliable and efficient equipment, as well as the courage to push boundaries. Fabrica de Papel San Francisco has that all.
Fabrica de Papel San Francisco (PSF) in Mexicali, Mexico, has set the target of growing in line with the market, or even exceeding that growth. To meet the demand for capacity, they have invested in new tissue machines every three or four years. Most recently, in another Valmet Advantage DCT 100TS machine for TM 7.
Full speed
Investing is one thing, but the capability to get large volumes of high-quality paper out of the lines is something else. Running as fast as possible has been part of PSF's strategy ever since the start-up of their first tissue machine. They have a continuous production speed many other producers can only dream of.

Dario Palma y Meza, Operations Director, explains their strategy: "In all aspects of our business and our company, we want to get the most out of our equipment. Since the machine is designed for 2,200 meters a minute, our strategy is to run as close as possible to that level. To be competitive in the Mexican market, you need an efficient production process and qualified people. And you always need to be in touch with the latest trends, and what can give you the edge in manufacturing."
"A good supplier becomes a part of our team. It's very important to have a responsible crew you can trust."
TM 7 sets new record
TM 7, an Advantage DCT100TS machine, is the company's newest tool to follow this strategy. The start-up set yet another record, reaching 2,000 m/min within 48 hours – and it just continues!

To execute a start-up in that short time means that a lot of things must work perfectly together.

"This was the sixth tissue machine we have started up, so one big factor is of course to utilize people's experience from previous installations. We always use our best operators who are familiar with the process and the technology. Support from Valmet is also important, as is a stable and reliable tissue machine with high efficiency. We had a really good start-up, and we have been running at full speed ever since," Palma continues.
Pioneering in tissue production
PSF is something of a pioneer in the tissue business. The company already set the world speed record back in 2009, and it was the first to start up an Advantage NTT machine. Today it produces high-value grades from virgin pulp on the NTT machine.

"The NTT concept is great. It has given us the opportunity to enter the textured market. We are happy to have the capability not only to do textured tissue, but also conventional tissue at a high basis weight. Its drying capacity gives a very nice level of production that I haven't heard of from any other machine," says Palma.
High-quality tissue with low energy consumption
So why did they decide to invest in a new Advantage DCT machine this time?

"The Mexican market mainly requires 100% recycled tissue. The premium type of virgin fiber products is a small part of the market, somewhere between five and ten percent. So, our need was basically a machine that could provide us with 100-percent recycled, low-basis-weight bath tissue. It is also in our philosophy to go for low energy consumption and the lowest possible emissions into air and water. Valmet recommended the Advantage DCT machine with an Advantage ViscoNip press to achieve the best tissue quality combined with the lowest energy consumption," explains Palma.

The ViscoNip press is a new technology for the mill team in Mexicali. They are still learning, but in general, they are comfortable with the process and find it easy to handle.

"The machine is running very well, and we are mainly utilizing low and medium nip loads to get more caliper and softness. Running at 2,150 meters a minute in daily production is not a problem, and we have even hit speeds of 2,200 for several days. We have also seen savings in electricity so far," says Enrique Zarate, Mill Manager.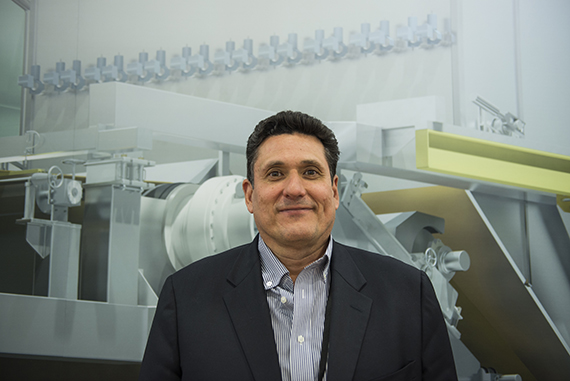 "Our need was basically a machine that could provide us with 100-percent recycled, low-basis-weight bath tissue," Palma summarizes.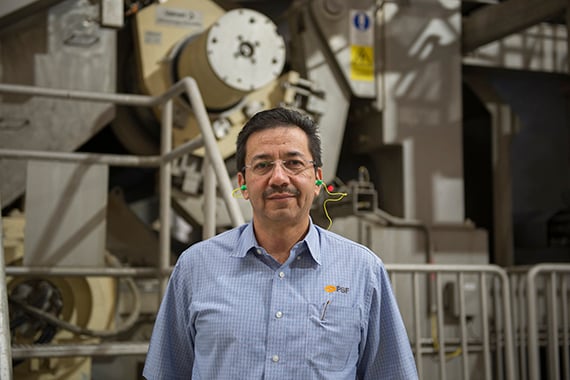 "Choosing the Advantage DCT machine was quite easy. The ViscoNip makes it the most efficient and best choice for the grades we need to produce," Zarate
c­ontinues.
Trust and teamwork
PSF and Valmet have a long-term relationship covering four tissue machine installations. For Zarate, it has been a benefit to work together with the same supplier for all four projects. "A good supplier becomes a part of our team. It's very important to have a responsible crew you can trust and be open with about problems or challenges, and a team that makes all the effort to solve any issue. It makes life easier for all of us."

With the new TM 7, the Mexicali mill will reach a daily production of 500 tonnes, considering they run a high percentage of very low basis weight. Their market share in Mexico is currently 18 percent, with a target of continued growth. And with skills, dedication and expertise, they will hold on to the need for speed.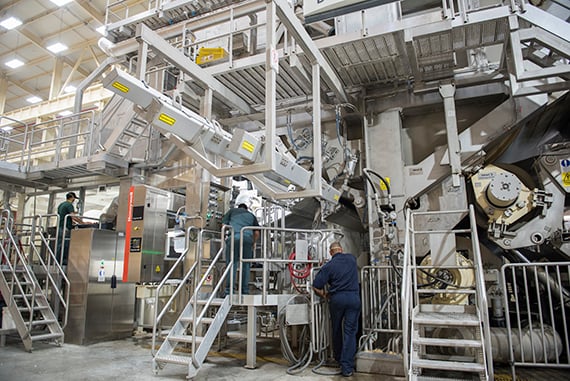 PSF's mill in Mexicali houses seven paper machines, six tissue machines, and one OCC brown paper machine. Valmet delivered two Advantage DCT100TS machines in 2006 and 2008, one Advantage NTT machine in 2013, and now another Advantage DCT 100TS machine for TM 7.
Contact person
Jan L Larsson
Sales Director, Tissue
North America
+1 404 229 4269