May 14, 2021
Through remote connections and Industrial Internet, experts can work seamlessly together utilizing analytical tools to solve problems and optimize performance remotely. For customers, this means faster and better service, because they can get the fast response and expert advice they need, anytime and anywhere in the world.
So what is meant by remote services? A remote service is any service that can be provided to customers without having to be physically present at their location. Remote services are typically provided from performance centers, which utilize remote connections and tools. Performance centers serve as hubs for global expertise, giving customers easy access to the support they need, regardless of time zone and location.
Worldwide expertise through Valmet Performance Centers
Janne Kytökari, Head of Valmet Performance Centers, says, "We provide remote services through our Valmet Performance Centers. Our Performance Center teams include people with expertise in our customers' industries, like process experts and equipment experts, as well as people with expertise in specialized services such as cybersecurity and condition monitoring. These centers connect our experts from all around the world in virtual teams that serve our customers. Whatever help our customers need, we can find the right expertise in our global expert network."
Whatever help our customers need, we can find the right expertise in our global expert networks.
Assisting customers anywhere in the world
"Thanks to remote connections and the Industrial Internet, we can connect to customer's equipment in real time and serve customers pretty much anywhere in the world," Kytökari says. "In the last year, when travelling to customer sites has been restricted due to the challenges of Covid-19, this has allowed us to continue service almost as usual. While we haven't been able to send teams to every customer site, we've still been able to assist them, resolve their issues and deliver services through global collaboration between local service specialists and the Performance Centers. For example, we have remotely supervised and monitored shutdowns and conversions, and even remotely commissioned control systems, all with great success. This adds a new element to our regular Performance Center services, and supports our remote monitoring and performance services."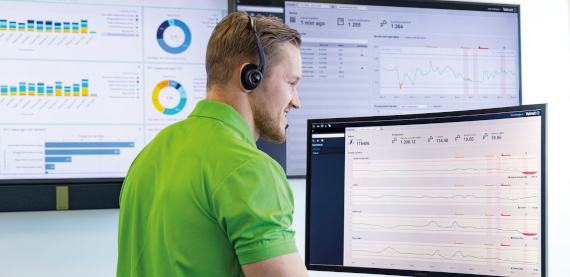 Remote support for field service teams
"Our remote services network from the Performance Centers collaborate and provide support to our Field Services teams based on the customer's needs," says Anders Öhrblad, Vice President, Pulp and Energy Solutions at Valmet. "This means that our own on-site personnel know they can rely on support from our Performance Centers during situations like equipment commissioning and start-ups. With start-ups, for example, we can have just one or two team members on site, while the rest of the team works with them through our Performance Centers. It's the same start-up team. The only difference is that some of them are working remotely. This approach aligns well Valmet's and our customer's focus on sustainability and cost effectiveness too."
The ability to connect remotely in real time for support is the real value that our customers get.
Ensuring support is always available
Customers get two main benefits from Valmet Performance Centers: They make remote services and expertise available with fast response times; and the services can be tailored to customers' service objectives.
Valmet Performance Centers give customers access to capabilities and expertise that they may not have available on site or even within their company. Öhrblad explains, "For example, we've developed specialized Industrial Internet applications that help us analyze data, monitor processes and optimize performance. This operational data, combined with our proactive maintenance planning program and the equipment's service history, puts Valmet in a unique position to provide proactive support. We can give advance warning of upcoming needs, improve maintenance scheduling with predictive maintenance, and find opportunities to improve our customers' overall operations and maintenance. This ability to connect remotely in real time for support is the real value our customers get."
Kytökari adds, "Our customers know that if they send a question it will be answered. When they use our services like process optimization or reliability monitoring, they know there really is someone at Valmet who is taking care of it, looking at the alerts and following them up. And they can rely on us to give them feedback and advice on urgent matters, and help them plan ahead."
Meeting the customer's objectives remotely
"The benefits of Performance Center services also depend on the customer's service objectives," Kytökari points out. "For example, our teams can help them achieve their process optimization targets through process debottlenecking, control enhancements and operator coaching – to mention some possibilities. With expert recommendations, these can deliver better energy efficiency, better quality, higher production rates and better raw material efficiency. Alternatively, if the customer is looking for improved equipment reliability, we can do this with predictive monitoring applications. This results in greater availability, easier maintenance planning and fewer unnecessary part changes, which also leads to lower costs. And we also offer on-demand expert support for the fast and reliable troubleshooting of process and equipment issues, and accurate root-cause analysis.
"We rely on data to guide us, with advanced applications to do the analysis," Kytökari adds. "We get the full picture when we combine the results of the data analysis with the expertise of the people in our Performance Centers, and their understanding of the issues and the customer's process. Our predictive tools also give us extra time to react, so we can help the customer stay ahead of any approaching issues."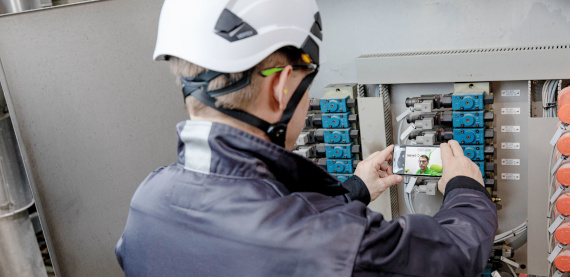 Remote services are here to stay
Öhrblad, adds, "The last year has forced our customers and Valmet to find new ways to cooperate, and we've been able to adapt quickly thanks to the maturity of our Industrial Internet and remote solutions. I believe we've been able to continue to provide our services at a very high level, regardless of the difficulties. Our organization is also strongly driven in the support of our customers, and this is always a key element in a changing business environment."
Kytökari concludes, "Currently, Valmet is investing a great deal in the remote services we offer through our Performance Centers. Remote services are here to stay. How we benefit from and understand data is improving every day, and the possibilities offered by sophisticated technology and machine learning are expanding all the time. It's difficult to imagine where we'll be in five years' time!"
Text Peter Cura
How do remote services work in practice?
On-demand services
With agreements for on-demand services, customers can contact a Performance Center whenever they need to request assistance. Although customers often request urgent support for unscheduled tasks like troubleshooting, we also regularly offer support for planned activities like maintenance shutdowns, as well as one-off projects like start-ups. Whatever the customer's need, Valmet's experts can assist, both on site and remotely.
Equipment monitoring and reliability services
With agreements for equipment monitoring and reliability services, we help ensure that our customers' processes are reliable, monitoring things like performance, condition, deviations and alerts, as well as analyzing trends and predicting maintenance needs. We use specially developed Industrial Internet applications to provide intelligent monitoring. Our experts use the information these applications provide to ensure that the customers' operations run reliably and to help them optimize their processes. "Continuous monitoring also supports our field services people. When they see the performance history and actual details of the equipment, they can adapt the service protocol to its current state and optimize it," says Anders Öhrblad, Vice President, Pulp and Energy Solutions at Valmet.
Process monitoring and optimization services
Process monitoring and optimization services are wider in scope than one-off optimization projects or continuous monitoring, and they aim to find ways to improve the customer's results over a longer period. Process performance agreements can focus on optimizing the throughput, energy and cost efficiency of specific areas of a mill, or even the mill's overall performance.