Jan 30, 2018
Press felts are key in successfully removing water in the papermaking process. Overall, they play a very important role in the machine's performance, especially in terms of runnability. In press felts, small things make the difference. Valmet's press felts are known by their edge profiling and special treatments.
All Valmet Press Felts are manufactured in Tampere, Finland. By centralizing the production to one location, the production process and conditions are kept stable to ensure uniform quality standards. Stable performance of press felts creates reliability and predictability to paper machines' operations – highly appreciated by the customers. Valmet has become a strong player in the global market due to some unique characteristics of its press felts.
"Our goal is to manufacture press felts with excellent and stable performance. The main thing is the good basic product, starting from the right base structure. But we have developed special treatments and structures for our press felts that give them a competitive edge. Our start-up treatment involves special chemicals to enable a fast and secure start-up, increasing the average running speed and production capacity of the machine. Profiling, on the other hand, is a unique treatment at the sheet edge area of the press felt. It leads to fewer edge-related problems, and the running life of the felt becomes more predictable and even longer. This reduces unexpected breaks and makes the machine run more reliably and stably. In addition to well-functioning products we offer our customers responsive and high-quality support and services, available either on-site or remotely," explains Leena Silakoski, Senior Manager, Press Felts and Belts at Valmet.
Success in the most important press felt position - the pick-up
The press section of a paper or board machine usually comprises three to four press units. The pick-up felt – the first felt in the press section – is the most crucial.
"Pick-up felts typically remove at least half of the water in the press section and are critical for machine runnability. Our structures and treatments have made our pick-up felts very competitive in the market. Today, we have, for example, a strong position in pick-up felts for fast-running brown paper machines," Silakoski says.
The life cycle of press felts is relatively short – four to eight weeks, on average. In contrast to the other paper machine clothing products, this means a shorter development cycle and more design fine-tuning opportunities.
Quality always on top
Quality is always considered first, when making any adjustments to the product itself, the manufacturing process or customer service. For product development and fine-tuning, Valmet has a well-equipped laboratory in Tampere.
"Our laboratory analyzes about 1,000 used press felts every year, giving us information about the press felts, but also about customers' machines. Our goal is to identify the root causes of any problems to help our customers develop their processes. Through laboratory testing, we are also able to extend the running time of press felts to the optimal level. The sum of all this is our high degree of quality, which we are proud of," Silakoski points out.
"We are dedicated to moving our customers' performance forward. We have experienced and committed people working close to our customers, and we use stateof-the-art tools in our product development. Going into the future, we are fully utilizing all our benchmarked data and know-how in helping our customers to get the most out of their papermaking processes – whether it be tissue, printing, packaging or pulp grades," Silakoski says.
Behavior of Valmet Press Felt EMX with start-up treatment and profiling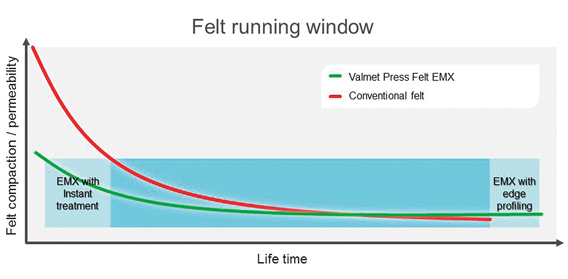 Good start-up and runnability – Valmet Press Felt EMX with Instant Treatment and edge profling
This rebuilt machine produces linerboard and white-top liner. The start-up and dewatering of the pick-up felt are very important, because the third press "foods" easily if the dryness after the second press is too low. Valmet Press Felt EMX styles have per formed very well in this position. To eliminate edge-related issues, we have applied profling to these felts, which has partly ensured excellent whole life performance and runnability. To further boost the start-up of new felts, especially the initial development of save-all dewatering, we have applied Valmet Instant Treatment. After the first Instant trial, it has become the new standard for this position. Valmet is a regular felt supplier for the pick-up and the whole press section.
Good running with edge profiled Valmet Press Felt EMX
The main grade of this customer machine is corrugating medium. The biggest obstacle to trouble-free running times between the planned felt changes used to be edge problems, flipping and dropping at the pick-up felt. These problems were solved with Valmet Press Felt EMX, which included strong edge profiling. Now the standard running time of the pick-up felt is four weeks. Since this felt was introduced to the machine, Valmet has delivered 62 pick-up felts and currently supplies 100 percent of the felts for this position.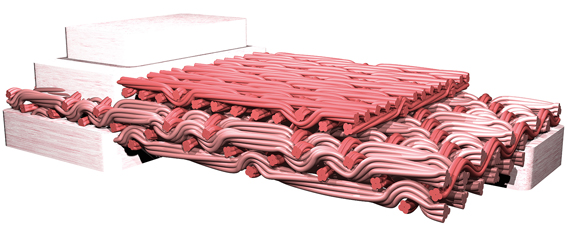 Article published in Forward 3/2017.