Dec 3, 2015
One cleaning shutdown eliminated every six weeks at Stora Enso's Skoghall board machine.
Stora Enso Skoghall's board machine BM 8 in Sweden produces high-quality
liquid packaging board using a non-felted smoothing press. At the beginning of 2013, Skoghall decided to renew their old smoothing press cleaning device and improve the roll cover durability, choosing Valmet Smoothing Press Roll Cleaner* and Valmet Press Roll Cover PK**press roll cover.
Long experience has shown that using a traversing cleaning device for soft rolls in a smoothing press is vital for effective and productive operation. Experience with a variety of roll covers shows that the cover type makes the difference. In addition to the extreme wear- and erosion-resistance required by the high pressure cleaner, the covers need to run safely without internal water cooling.
By the summer of 2015, the results were in. Both Valmet Smoothing Press Roll Cleaner and Valmet Press Roll Cover PK met the customer's expectations. The new roll covers have been running well and have demonstrated lower and safer temperatures under operation. Smoothing press roll cleaner has also resulted in clear maintenance cost savings. "We have saved an eight-hour shutdown every six weeks because the new cleaning device can be maintained while the machine is running," says Pehr Mithander, the supervisor of BM 8 at Stora Enso Skoghall Mill.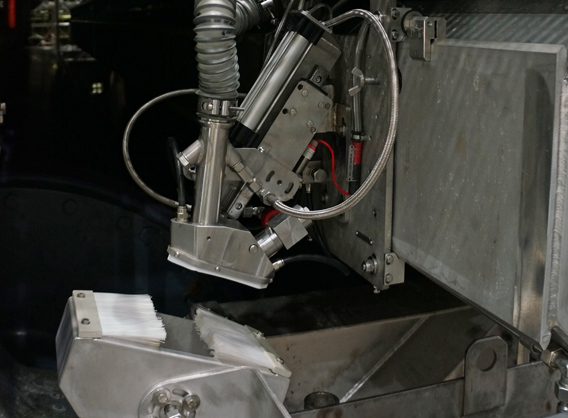 Direct contact with the web calls for extreme cleanliness
In many machines producing carton board grades, the press section has a
non-felted smoothing press nip. As smoothing press rolls are in direct contact with the web, roll surface cleanliness is extremely important for board quality, machine runnability and production efficiency. Typical carton board ingredients, such as the hydrophobic resins AKD and ASA, pose roll contamination challenges. In recent decades, smoothing presses with soft covered rolls in particular have had a questionable reputation due to contamination problems.
Seamless solutions for reaching a common goal
One traditional way to improve roll cover cleanliness is to modify roll cover release and its non-stick properties. Cleanliness and contamination problems can also be addressed by doctoring and traversing high-pressure cleaning devices, or even by cleaning chemicals using trough showers. In order to find a successful solution that works well in a given operation environment, all the components must be adjusted to work seamlessly towards achieving a common target. Take doctoring, for example: gentle plastic blades do not fully clean the rolls, but more aggressive carbon fiber blades with high blade pressure may destroy the roll cover altogether.
Valmet Press Roll Cover PK – extreme durability in harsh operating conditions
During recent years, Valmet has developed greatly improved polyurethane roll covers for several applications. Valmet Press Roll Cover PP, Valmet Press Roll Cover PH and Valmet Sizer Roll Cover CF have been joined by Valmet Press Roll Cover PK – Valmet's latest example of advanced polymer technology. Probably the biggest benefit is its extreme durability against wear, tear, pressure and chemically harsh environments. It also has excellent dynamic properties and can withstand high nip loads without heating up, resulting in increased reliability and maintenance savings.
Smoothing press roll cleaner for continuous cleaning during production
Valmet's smoothing press roll cleaner is a modern traversing high-pressure cleaning device designed for smoothing press applications. This new device ensures a reliable cleaning result without making contact with the roll cover itself. In addition to excellent cleaning performance, it reduces breaks and leaves no streaks or markings on the sheet.
*earlier known as OptiCleanerRoll **earlier known as PressKodiak
Article published in Forward 3/2015.