Performance cooperation for board and paper making


Higher mill productivity through Performance Agreement
Valmet's performance agreement is a mill-wide cooperation program aimed at maintaining and improving competitiveness throughout the production line. A goal-oriented performance agreement ensures measurable results – such as decreased number breaks, less broke, and lower overall downtime.
In the same way as a sports coach works to perfect the performance of a professional athlete, Valmet seeks ways to achieve the highest possible efficiency and boost production levels. Through a systematic development project, we offer new ideas and the latest technology. Put simply, the performance agreement is an excellent tool for maximizing production, improving end product quality, developing maintenance, and cutting costs.

Benefits
Typical payback time of less than six months
Productivity improvements of up to 300% compared to mills without a performance agreement
Improved cost-efficiency through sustainable service solutions such as energy efficiency improvements

Systematic process improvements
By benchmarking the results of other mills and utilizing the experience of Valmet's skilled personnel, specific limitations can be addressed and critical bottlenecks solved. Our broad process understanding enables us to continuously introduce new products and services that meet our customers' most demanding needs. Systematic process improvements and long-term partnerships have demonstrated Valmet's ability to speed up production growth and efficiency.
Performance agreement tailored to specific needs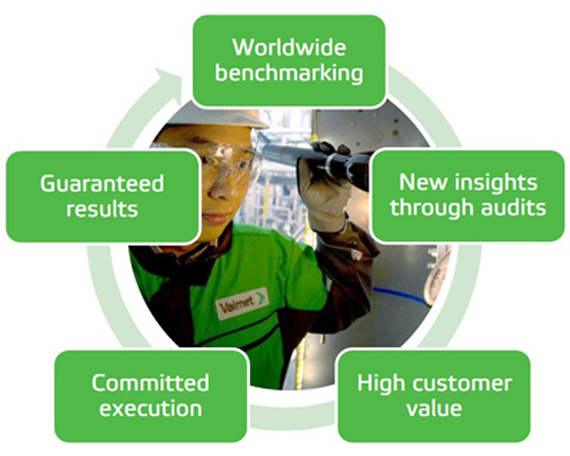 Improvements are measured using key performance indicators set together with the customer. Whether the targets selected relate to improving productivity, saving energy and raw materials, or to availability development, a performance agreement has the potential to improve performance at every stage of the production line. A systematic approach to improving mill operations can mean a potential increase of 10% in production and up to 7% savings on energy costs – depending on the targets set and the customer's commitment.
Why choose a performance agreement?
A performance agreement integrates every action necessary to drive customer targets forward. This requires seamless teamwork and well-tailored development processes. Targets are reached by adopting a systematic process and building a team of experts, including named contact persons, process analyses, remote diagnostics, specialists, development teams, and on-site support.
Efficient payback
As a full-scope machinery supplier, Valmet designs each tailor-made agreement to match the customer's specific targets and current situation. We cooperate worldwide with a variety of customers using a wide range of machinery, and some of our agreements have been in place for more than 15 years.
Customers can expect significant results with a payback time of less than six months during the entire contract period. Meanwhile, we continuously focus on reducing costs, improving production efficiency and facilitating operational excellence.

For more information on Performance Agreement, please contact Mikko Lehtola tel. +358 40 553 8216.
ARTICLES

Looking for continuous development in paper machine performance
The Spanish paper and cardboard manufacturer SAICA launched its U.K. operations in 2012 with the startup of its PM 11 paper machine in Partington. From day one, Valmet's expertise has been utilized on site. Due to a recent renewal of the Performance Agreement, the co-operation will continue until at least 2020.

Cooperation moves Whakatane forward
The Whakatane board mill in New Zealand was able to optimize their existing processes to gain their maximum potential through a Performance Agreement with Valmet.

Better performance, step by step
Holmen Paper teamed up with Valmet in order to support and speed up the performance of PM 11 and PM 12 at Holmen's mill in Hallstavik, Sweden. "We needed someone who could combine all the challenges we have to improve our production," says Per-Arne Andersson, the production manager.