Customer case:
Excellent quality fine paper produced with Asia Symbol Xinhui PM12
Asia Symbol (Guangdong) Paper is a leading fine paper producer in China and the produced grades set a reference quality level for the global and Asian markets. The new production line PM12 produces top quality fine papers and it increases the company's capability to produce value-added products. The project is representing the long-lasting and good cooperation between Asia Symbol and Valmet. PM11 was started up in 2012 and it has been producing fine paper at top speeds and maximum efficiency for several years. Xinhui PM12 is almost similar to very well performing PM11, but it is equipped with some new technology like the latest OptiFormer Gap with shoe and blade technology to create even more competitive edge for Asia Symbol in the future.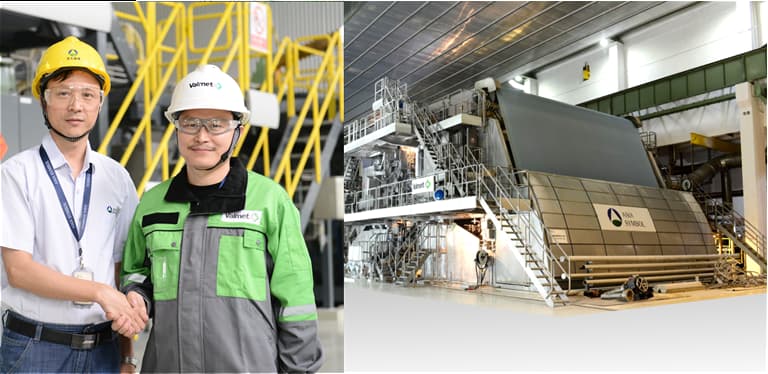 The success of PM11 gave investors a lot of confidence, so we started production of this new production line. Our goal is that the product quality of PM12 exceeds PM11's. Valmet process technology did not disappoint us. The startup curve and product quality of PM12 have reached or exceeded PM11's. The stability and adaptability of Valmet paper machines have helped us to improve the quality of paper products and develop new products."
SUMMARY
Location
Jiang Men City, Guangdong, China
Solution
The state-of-art fine paper making line Xinhui PM12:
A comprehensive automation package comprises Valmet DNA process, machine and drive controls and conditioning monitoring as well as Valmet IQ quality control system and profilers. The delivery will also include wet end analyzers. With these automation solutions, the entire production process and the end product quality can be optimized for maximized business results.

The delivery also included stock preparation with bale dewiring lines, approach flow and broke handling as well as related chemical and air systems.
Site services, training and clothing for the whole paper machine line were supplied by Valmet.
Results
PM 12 produces top quality fine papers and it increases Asia Symbol's capability to produce value-added products. All the produced paper has been saleable from the very start and the start-up curve was excellent. The stability and adaptability of Valmet paper machines have helped Asia Symbol to improve the quality of paper products and develop new products for the market needs.
Keywords
Paper & board, New lines, China
Read more about the case
Start-up announcement
Technical Data
| | |
| --- | --- |
| Grades | Uncoated woodfree papers, brands like PaperOne, ARIA Premium and Noval |
| Basis weight | 50 - 120 g/m² |
| Reel width | 8 750 mm |
| Design speed | 1 800 m/min |
| Capacity | 1 714 t/d |